The Myrna Loy's production of the '70s rock opera "Jesus Christ Superstar" opens 7:30 p.m. Friday, April 5, and runs weekends through April 20.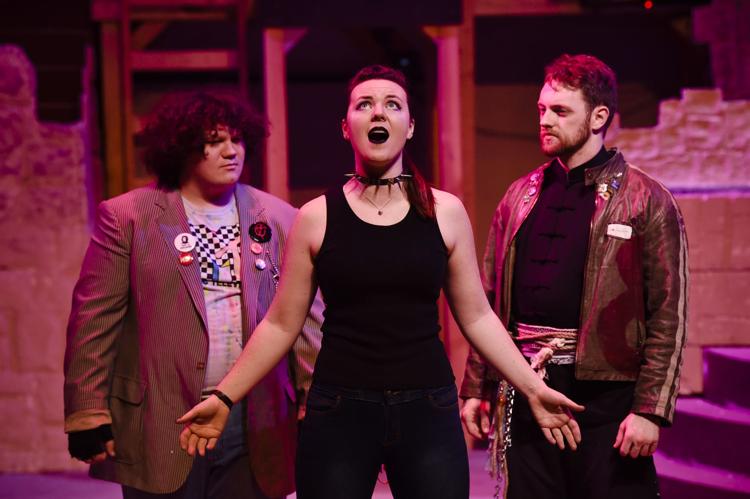 Director Errol Koch promises this production of the Andrew Lloyd Webber and Tim Rice musical will be like no other version you have seen.
To begin with Koch threw away the idea of casting by gender, which makes the viewer see the story through fresh eyes.
Besides a dynamic mix of dancing and some absolutely riveting voices -- the production features a 10-piece rock band, an aerial silks performance, a huge quadraphonic sound design and multimedia projections.
Set in the ruins of Jerusalem, the story of the final days of Jesus unfolds as actors step forward from the ensemble and transform into key characters.
The story's told through the eyes of Judas Iscariot (Sabrina Harding), who sees the rising popularity of his best friend Jesus (Meghan Scott) as a potential threat to all Jews because the wrath of Rome could be unleashed on them.
Harding is thrilled to have the chance to play Judas in the musical she grew up listening to and singing along with.
"My parents are both English," she said. "My mom used to go see it live on the West End. ...It was one of her favorite musicals.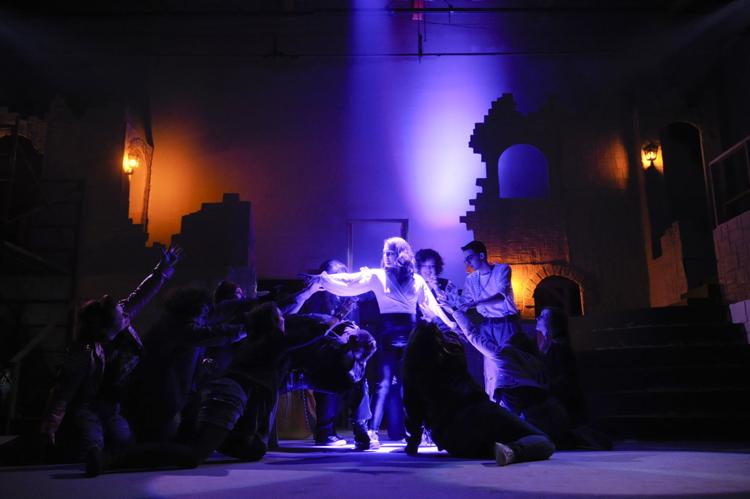 "I grew up listening to her talk about it and listening to the music and watching all the adaptations, so it's always been on my bucket list."
"When Errol said he wasn't interested in casting by gender, but would cast females in whatever role suited them best even if it wasn't necessarily written for a woman, it really opened up all these possibilities."
As a kid Harding had sung along with the parts of Jesus and Judas, "but never really thought I could play those roles."
"I always tend to play very strong and steadfast characters."
She loves the role of Judas and is also challenged by it because of his uncertainty and vulnerability.
"He's torn and doesn't know what to do," weighing the fate of his people but also that of his best friend.
"It's still kind of surreal playing a character I sang along with and watched other people bring to life," she said.
Harding, who owns BumbleBee Aerial Fitness, does an aerial silks performance as Judas' death scene, as does Scott during the crucifixion at the close of the play.
"This story is an important one," Harding said. "I think it has a lot of parallels to the world today. People are looking for something to believe in...but every extreme has its dangers."
Like Harding, Scott also auditioned because of a strong love for the iconic rock opera.
She was in a previous production of "Jesus Christ Superstar" at the University of St. Francis in Fort Wayne, Indiana.
Scott was delighted to be offered the role of Jesus, but admits she was totally caught by surprise.
"I happily accepted because I love a good challenge," she said.
At first the role felt a bit daunting, but "I started to find human moments to connect with."
"This show is all about human connection," she said, and about love.
Not only can playing Jesus be a challenge, but so can her final scene, the crucifixion.
Scott's taken learning to perform on aerial silks in stride.
After all, she previously played the roller skating lead in the musical "Xanadu" and had to learn how to roller skate.
"It's a new perspective on a story everybody knows," she said of why people will want to see "Jesus Christ Superstar." "I think audience members are really going to like it."
"I think, especially right now, it's important for people to see stuff of immense courage that doesn't have to do with violence, and bravery that doesn't equal war and fighting," Koch said of the play's power.
"It's a passive courage. It's not looked at very often -- that a person's strong belief and love of mankind… it's all that it takes to change the world."