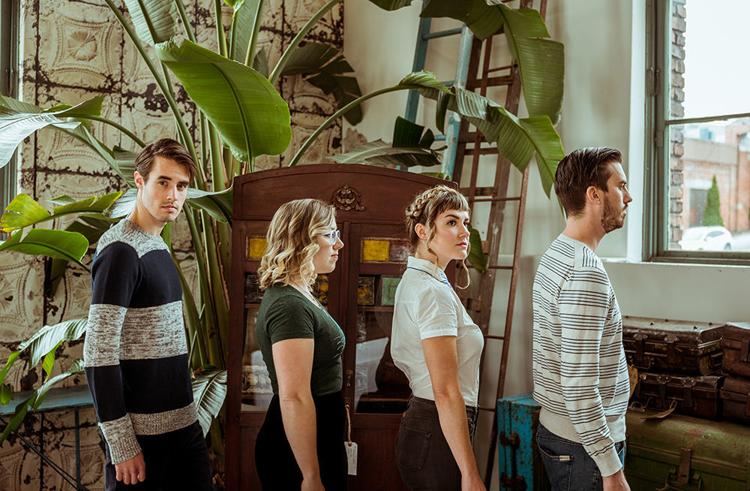 Seattle band Kuinka, playing "joyous folk pop" headlines the Second Annual Meadowlark Music Festival next weekend, Sept. 8, at Women's Park.
And Missoula's Reverend Slanky, playing its "horn powered funk and soul," will get the crowd revved up for partying.
The festival features an eclectic mix of music, kicking off at noon with the popular "new symphonic indie-folk" duo, David and Deidre Casey of Helena.
Festival organizer Micah Eller has lined up a diverse range of music to suit the tastes of every demographic.
"We just want people to come out and enjoy community," said Eller.
She decided to launch the festival about two years ago.
"It was Christmastime and we were chatting about how much we missed the Mount Helena Music Festival," she said, which was discontinued in 2015,
The original festival stretched the length of the downtown, with numerous music stages and vendors.
But Eller wants to start out small and grow the festival gradually.
Last year the first Meadowlark Festival drew 900, and this year Eller is hoping for 1,500.
She chose Kuinka as the headliners after seeing them at Lewis and Clark Brewery.
"I loved their music and their harmonies," she said. And she also loved how they interact with the audience.
Their joyous music-making also caught the eye and ear of NPR music host Bob Boilen, who featured Kuinka on NPR's Tiny Desk Concert series in March. 
The band of friends, which is made up of Miranda Zickler, brothers Nathan and Zach Hamer, and Jillian Walker are known for their four-part harmonies, and eclectic instrumentation including cello, banjo, guitar, mandolin, harmonica, synthesizers, ukulele and electronic percussion.
Zickler said in an IR interview that a lot of their songs focus on where they are in their lives, but also larger social topics.
For instance, a new song, "Warsaw," featured on NPR looks at the larger social issue of pent up anger and hate speech.
It's on their new EP, "Stay Up Late," which got a glowing review from the online music magazine Vanyaland: "A fascinatingly jubilant record with distinct personalities, providing an electronic jolt into modern folk and Americana while waltzing along the grooved edges of dream-pop, synth-pop, and Brooklyn's mid-aughts guitar-rock revival."
"We tend to do pretty high energy shows with a lot of percussion," Zickler said, and they're looking forward to a return trip to Helena, where they have a loyal following.
Another band with a lot of Helena fans, Reverend Slanky, precedes Kuinka.
The funk, soul band of seven musicians includes three Helenans, Bob Packwood, Sam McKenzie and Cody Hollow.
They'll be playing some originals plus a mix of tunes from Stevie Wonder and Parliament, plus some less recognized tunes, said trumpet player Jarom Hein.
"We get people movin'," Hein said. "People love to dance to the music we like to play."
Other musicians in the festival lineup include Andrea Crossguns, whose music is influenced by everything from country and rock to jazz and soul; North Hill Trio, playing newgrass, bluegrass; Steven Gores Ensemble, jazz; and Leigh Guest, who performs everything from ballads to songs with "spunky and sassy lyrics" that make you laugh 'til you cry.
Queen City Tribal will be doing belly dancing, and Uncharted Waters will play blues rock.
At 6:30 p.m. Mayor Wilmot Collins and Helena YWCA director Monica Lindeen will give a short address.
This year 50 percent of festival proceeds will be donated to the Helena YWCA.
The majority of those funds will go to its WINGS program, a residential sober living facility for women transitioning out of chemical dependency treatment, incarceration, or are involved with Child Protective Services.
Also on hand for the festival will be a number of food and beverage vendors, offering Montana microbrews and Western Cider out of Missoula, which starts distributing its popular cider in Helena Sept. 10.
Saigon Alley will be serving seasonal cuisine of Southeast Asia; Big Dill, burgers, fries and tacos; Missionary Food Truck, Mexican food; Smokejumpers, prime rib slider; Cheddars, grilled cheese; and Top Kettle Pop, kettle corn.
There will be a number of kid activities, as well as art and craft vendors.
Tickets are $7 in advance, $10 at the door, sold at Blackfoot River, Ten Mile, Lewis and Clark and Snow Hop Brewery, Gulch Distillers, Funky Trunk and are also available online at Brown Paper Tickets.
PEAK physical fitness will be providing a first aid tent, and Mountain Country Distributing will have refillable water stations
This year's fiscal sponsors are Lost & Foundation.