Maggy Rozycki Hiltner's 'Vantage Point' and works by Montana universities' art faculty are showcased in two Holter Museum of Art shows opening Friday, Jan. 18, with a reception from 5 to 8 p.m.
Maggy Rozycki Hiltner: Vantage Point (395)
Maggy Rozycki Hiltner turns the often-belittling term "women's work" on its ear.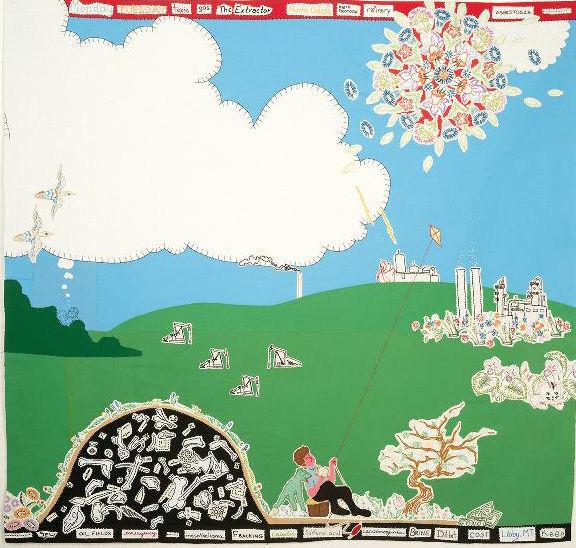 And what better way to celebrate her activist stitchery than opening her art exhibit "Vantage Point" on the weekend of the Women's March.
She started stitching "Vantage Point" in April 2014 as an "idealized landscape of blue sky, green grass and puffy white clouds."
Her initial work, stretching 72 linear feet, was first displayed at the Mesa Contemporary Arts Museum.
It's now grown to 111 linear feet (416 square feet) to encircle the Bair Gallery's interior walls.
It's a site-specific installation, so get up close to see the Montana and Helena details, as well as her many humorous additions.
At first the viewer is drawn to her happy, childlike colors and images.
But as Hiltner researched clouds and vapor, the Red Lodge artist learned about the not-so-happy realities of mushroom clouds, factory emissions and greenhouse gases.
"The more I researched, the more I knew I had to include pollution -- both seen and unseen," she said, adding there are no pristine landscapes even in Montana.
"I'm ...the reluctant environmental activist," she admitted. When she started out making "Vantage Point," she didn't know it would take this turn.
Her usual palette is "bright and happy -- kitschy" colors, she said, reflecting the domestic goods" that are the source of her materials.
Stitched into the idyllic landscapes are pollution scenes from around the world, as well as Montana and Helena, said Hiltner, adding "Helena has some excellent pollution."
A ticker tape of information runs along the top and bottom, explaining environmental terms.
"Maggy's work really resonates with me," said Holter associate curator Rosemary Howell who is drawn to Hiltner's "craftivism" -- a growing art movement that merges art and craft with political activism.
Since childhood, Hiltner's loved working with fabrics and stitching. She uses soft fabrics and humor as a way to sneak activist messages into her work.
Her artworks often include pieces of heirloom quilts and embroidery she's rescued at thrift shops and yard sales.
The roots of Hiltner's environmental awareness also stretch back to childhood.
Growing up near the Limerick Generating Station nuclear power plant, she swam in the Schuylkill River, "once dubbed America's foulest river."
She enthusiastically embraces the term "women's work," she said. "I want to do women's work and then turn it up real loud."
Hiltner will do an artist talk and embroidery workshop March 2.
'Across the Divide'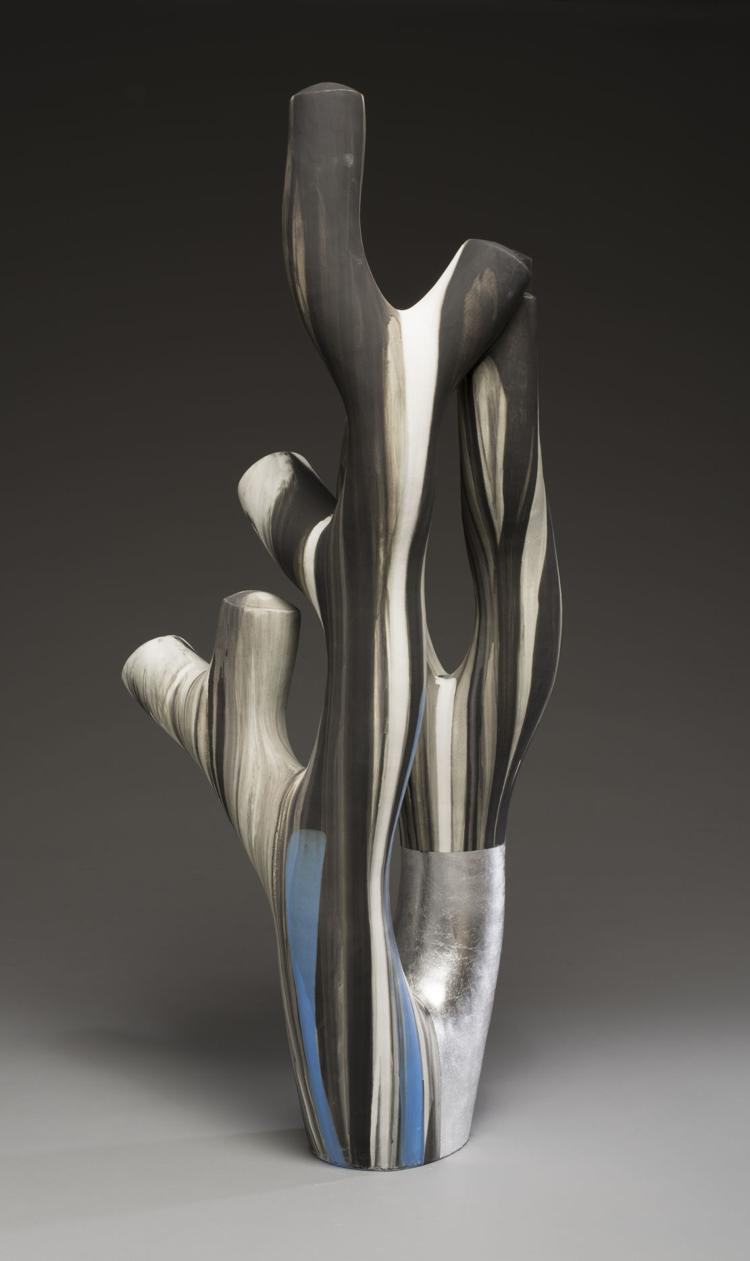 The Holter hosts its third "Across the Divide" exhibit featuring works by 23 art faculty from the University of Montana and Montana State University.
"The whole impetus for the show was to begin to develop a stronger community in the state" for college art instructors, said Kevin Bell, UM director of the school of art.
The shows have been held alternate years to coincide with legislative sessions, and are a way to spotlight the impact of state funding for the arts. They also showcase the quality and diversity of work done by art faculty "who are teaching the next generation of Montana artists."
"It's going to be a very diverse show," Bell said, including ceramics, graphic design, installation, painting, sculpture and photography.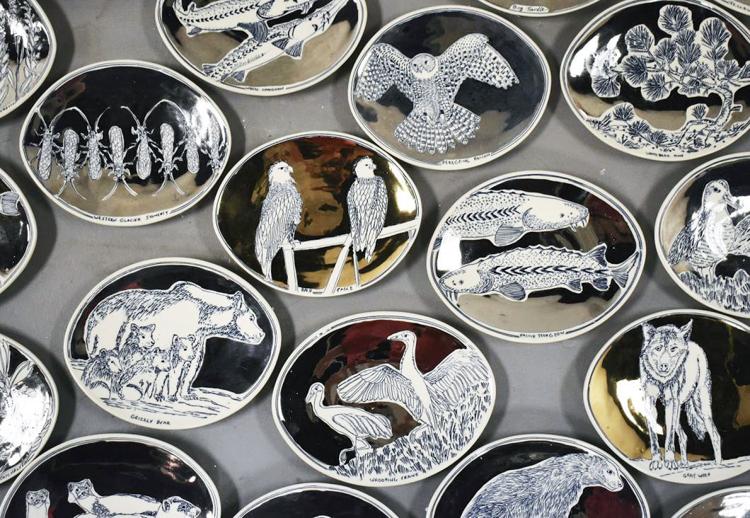 UM ceramics professor Julia Galloway will exhibit 22 porcelain Endangered Species plates, featuring threatened or endangered species designated by U.S. Fish & Wildlife.
Not all reside in Montana, said Galloway, but all have a Montana connection -- such as the whooping crane, which migrates through.
Each plate features a different species and is decorated either with a platinum luster, for those still endangered, or gold, indicating it's now delisted.
On the back of each plate is a brief essay describing what a person can do to help the species.
Galloway said she was inspired to create the series after hearing a story of the majestic Wandering Albatross that stays aloft for a month at a time, but are getting decapitated in fishing nets at a rate of one every five minutes.
Her idea to create beautiful plates to call attention to threatened species was also inspired by the power of the AIDS Quilt, which made the unseen tragedies of AIDS visible.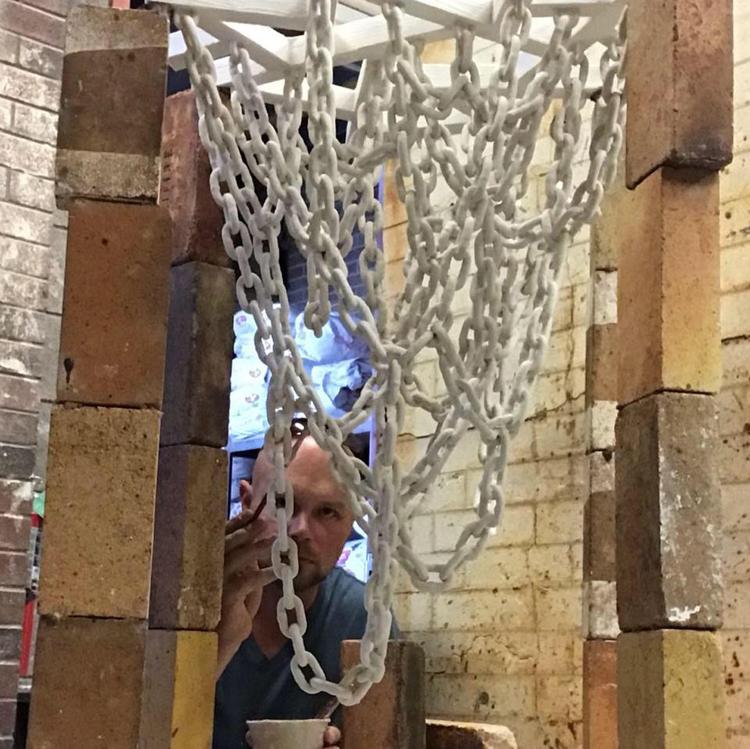 MSU associate art professor Jeremy Hatch uses porcelain to create everything from a life-size swing set and tree house to soaring chain sculptures.
The chain sculptures, "Hanging Models," are his newest works and are inspired by his interest in architecture.
The chain links are slip-cast porcelain that are attached when wet and "are suspended upside-down in the kiln during the glaze firing," he said.
"The glaze fuses the links together so the arches hold their form when inverted.
"I'm always trying to do something that hasn't been done before, so there's some risk in that."
The chain series is inspired by renowned Italian architect Antoni Gaudi's upside down 'hanging models' that Gaudi used to design many of his beautiful, nature-inspired structures.
In 2008, Hatch founded Ricochet Studio to collaborate with others to explore the intersections between craft, art and design.