Once upon a time when Annie McCarvel McCutcheon was a little girl growing up in Helena, she was sitting at the dinner table with her family and out popped a question she'd wrestled with all day.
Round and round the thoughts went in her head: "Which came first the chicken, or the egg?"
To find out her answer to this timeless question, you can check out her new book at a book launch party, 4 to 7 p.m. Wednesday, Dec. 19, at Ten Mile Creek Brewery on the Downtown Walking Mall.
Much is owed to her father, Tom McCarvel, who worked in education and wasn't about to give her an easy answer.
"Why don't you tell me?" he said.
"I usually would check the Encyclopedia Britannicas," which lined the shelves in the living room, she said. "This time I had a fun, silly answer."
Thus, was born the unlikely and charming story of the Chumiss and the Micken who created the chicken.
The next night she shared it with her family at the dinner table.
It may not be philosophical.
And it may not be scientifically accurate.
But it's a favorite story in the McCarvel family.
Years passed and McCarvel McCutcheon moved on with life... but Chumiss and Micken always lurked in her mind nudging her -- wanting their story told to the wider world.
About two years ago, after dropping her children off at school, it was time. She sat down and started writing it -- in rhyme.
First up, the reader meets the "Charming Chumiss."
"Paws of a cub and feathers of a bird,
'COCK-A-DOODLE-DOO' was his favorite word."
Living not-too-far-away, there's the "Marvelous Micken."
"White, feathered wings and feet with clawed toes,
fur of a bear and a little black nose."
The writing of it all down was just the beginning of the creation story. For it to breathe with life, McCutcheon had to find the perfect artist.
And Helena being the small town it is -- she heard about Kelly Anne Dalton through friends.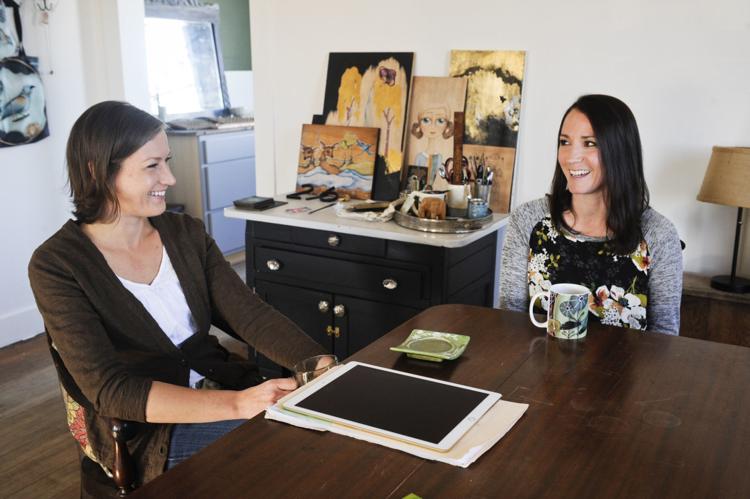 As soon as Dalton read the story, she liked it. "I fell in love with these half-bird and half-bear creatures," said Dalton.
Dalton created delightfully animated portraits of Chumiss and Micken, so we too can get to know them -- and of course, learn the answer to this very pressing question.
Dalton had been waiting for just such a story to arrive in her life.
"I had been working on my portfolio of children's book illustrations, and I was ready to try a full-length children's book."
And here was the right book arriving at her door.
"Annie had a great story, it just fell into place," said Dalton.
Dalton created her sketches of what the Chumiss and Micken looked like, based on the story.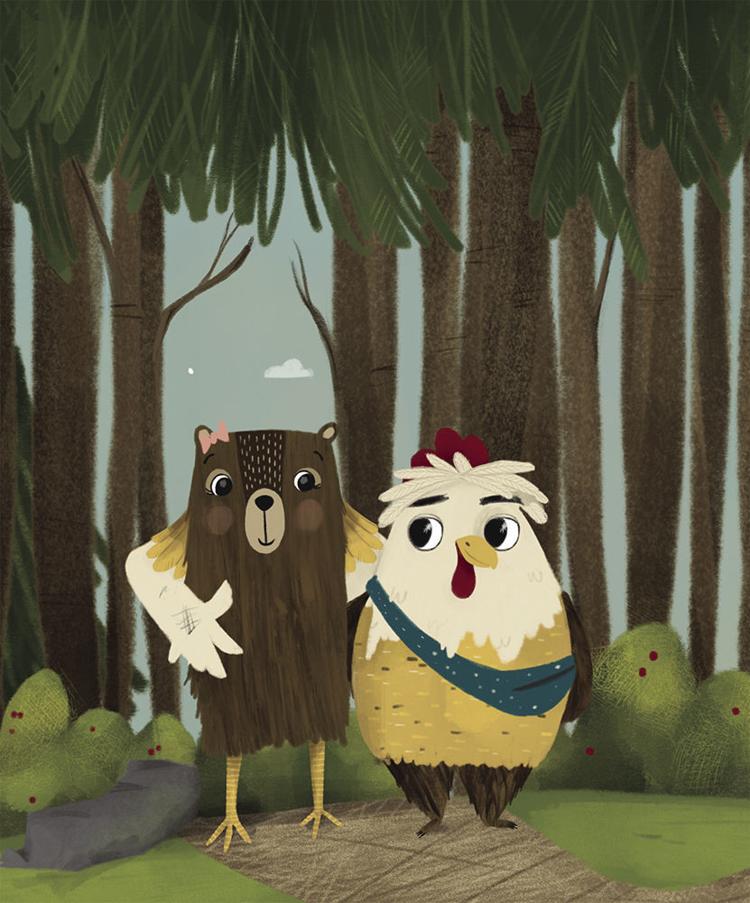 McCarvel McCutcheon had images dancing in her head. "But they were even better," she said of Dalton's illustrations.
Both author and artist have roundabout stories of how they came to create their first book.
McCutcheon, a Carroll College communications and public relations graduate, is a mom with three young children who felt a burning desire to tell this childhood story.
"I was always drawn to all things creative and artistic," she said.
Although this is her first book, she's done a lot of songwriting, which no doubt aided her in the rhyming storytelling.
Dalton has also been drawn to the creative life, drawing since she was a child. She sold art while she earned a master's degree in economics at the University of Montana. She's been selling her artwork since 2007.
After working for an environmental research group and as a real estate appraiser, Dalton discovered she'd rather be an artist.
Thanks to Chumiss and Micken, the two creative spirits met. And soon they were sitting together discussing character development and how the story would unfold.
"It was fun. It brought it to life in a way," said Dalton. And "it answers a very important question."
And that, dear reader, you get to discover all on your own.
The books have arrived in Helena, and they're ready to find homes.