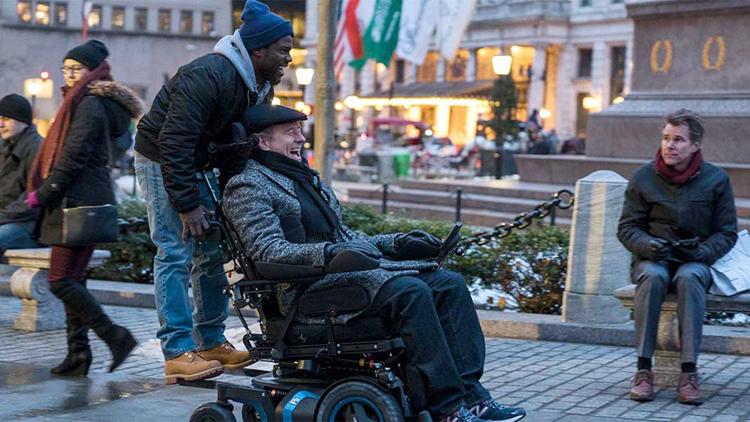 Upside
(PG-13)
Sometimes a few fine moments can save a predictable film.
That's the case with "Upside," a remake of a French film about Phillip, a rich white quadriplegic, who hires Dell, a decidedly unqualified black caretaker.
The original film featured a French billionaire and his French Algerian caretaker. The remake keeps that racially charged premise, but sets the story in America with a white billionaire hiring a black parolee.
The script sticks to the formula, as this odd couple goes through the long journey toward mutual respect, before becoming friends.
In essence, "Upside" echoes "Green Book," another tale of black/white rapprochement. But "Upside" has less cultural bite, a thinner script and a slightly less stellar cast -- and no Oscar nods.
The story in "Upside" is alternately played for laughs and insight. A typical laugh, harvesting low hanging fruit, is changing the old man's catheter or bringing a couple ladies of the night to cheer him up. Or talking too loudly during a fancy opera, smoking weed or learning to love Aretha Franklin.
But now and again the story hits home with insight into race, class and disability.
One touching scene finds wheelchair-bound Phillip finally agreeing to meet a lady he has courted online. He's fearful that his disability will doom him to being alone and lonely for the rest of his life. His wife died of cancer, and he loved her – and misses her -- deeply.
His lunch date, a lovely woman who loved his letters, confesses to being uncomfortable with the reality that he is a man with a disability. She's honest, and it breaks his heart, sending Phillip spiraling into depression.
The exploration of the interior struggles of a quadriplegic is handled sensitively, thanks to the nuanced performance by Bryan Cranston. Kevin Hart is solid, too – he digs deep, beneath funny.
There are some moving moments in Dell's life, as he takes money to his ex-wife to support his young son. Dell admits to a lifetime of bad choices, which ended in prison. But he loves his son and hopes that forgiveness is possible.
Giving most of his salary to his ex is his way of saying he regrets his wasted life.
As both Phillip and Dell sink into depression, they find they have vulnerability in common.
And it's when they both hit bottom, that their connection becomes authentic. The script finally sets aside the cheap chuckles, to wrestle with poignant issues involving forgiveness, loneliness and grief.
It's hard not to think of "Green Book" while watching "Upside." The script in "Green Book" digs deeply into racism and class, while "Upside" mostly skims the surface – with only an occasional moment when, like a pelican, it dives headlong into the water to find nourishment.
But despite the cheap laughs and clichéd script, I was touched by evolution of both men's lives.
Each in his own way is oppressed by society – neither the black ex-con nor the quadriplegic will easily find acceptance. The billionaire is now rich in money only. He feels his life is paralyzed as well.
To his credit Kevin Hart sheds his comedic image to find the heart and soul of this friendship. Nicole Kidman has a supporting role, but her talents aren't really harvested.
When "Upside" hits home, it's deeply moving. I chose to ignore, and forgive, the rest.