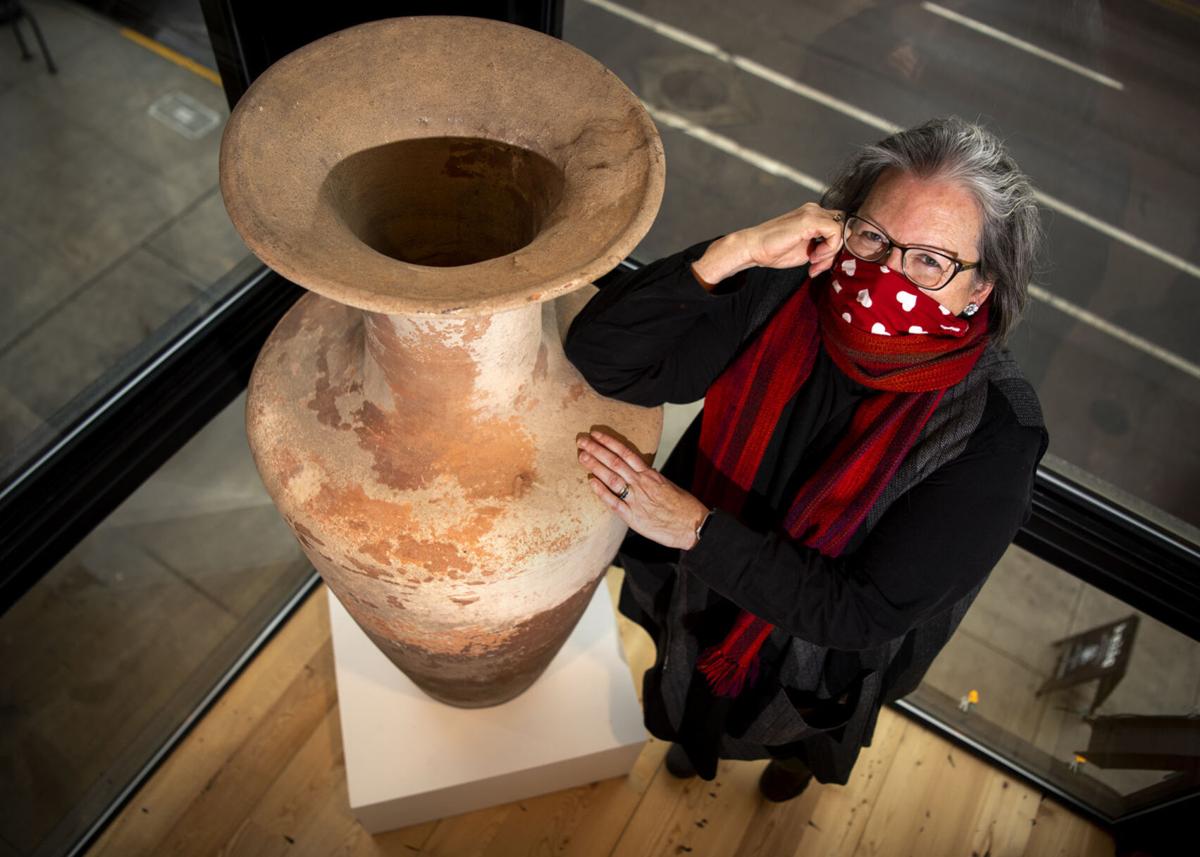 MISSOULA -- This terra cotta pot, some 4 feet, 2 inches tall, bears a time-worn surface that signals that it has some history.
Sitting in a corner of the Radius Gallery, its vintage exterior stands out among the brand-new pieces. Soon it will make its way back to Helena and the grounds of the Archie Bray Foundation for the Ceramic Arts, where it was produced some 100 years ago.
Since the late 1970s, it's been in the possession of Molly Galusha, a Missoula resident who owned the Buttercup Cafe near the University of Montana. Her aunt Betty was Archie Bray's daughter, or, as she put it, "Archie Bray was my father's brother's wife's father."
She's decided to return it to the Bray, where it will be displayed in the entryway of the new art gallery.
How did she get this rare pot, which they believe was made by Bray himself?
One of her relatives stole it and hid it in a fallout shelter.
The pot's lineage is tied up with the history of ceramics in Montana. In the late 1800s, Charles Henry Bray took over a brick works in Helena from Nick Kessler and built up a busy operation called the Western Clay Manufacturing Co.
He eventually handed the reins to his son, Archie Bray, who'd studied ceramic engineering at Ohio State University. Archie was a businessman with an eye and ear for culture. He and Branson Stevenson and Peter Meloy started the Bray Foundation in 1951, including Pottery Inc. Bray "envisioned [it] as a place where young artists could use the brickyard's clay and kilns, hone their skills, learn from each other, and develop a sensibility about the foundation's signature production ware," according to a 2001 article in the Independent Record.
It was a unique arrangement at the time, not just for Helena, but the country. The first two resident artists were Rudy Autio and Peter Voulkos, who went on to international careers by expanding people's ideas about ceramics as an art form, the start of a tradition that's carried on to this day.
After Bray suddenly died in 1953 at age 66, his son, Archie Jr., took over. While he was considered a smart and kind man, Galusha said, mistakes were made. A period of uncertainty suddenly loomed after Western Clay went into foreclosure. Its assets were held by the Small Business Administration and a bank, and fenced off abruptly. (The foundation, led by Kenneth Ferguson and David Shaner, was able to raise funds to preserve itself and continued growing.)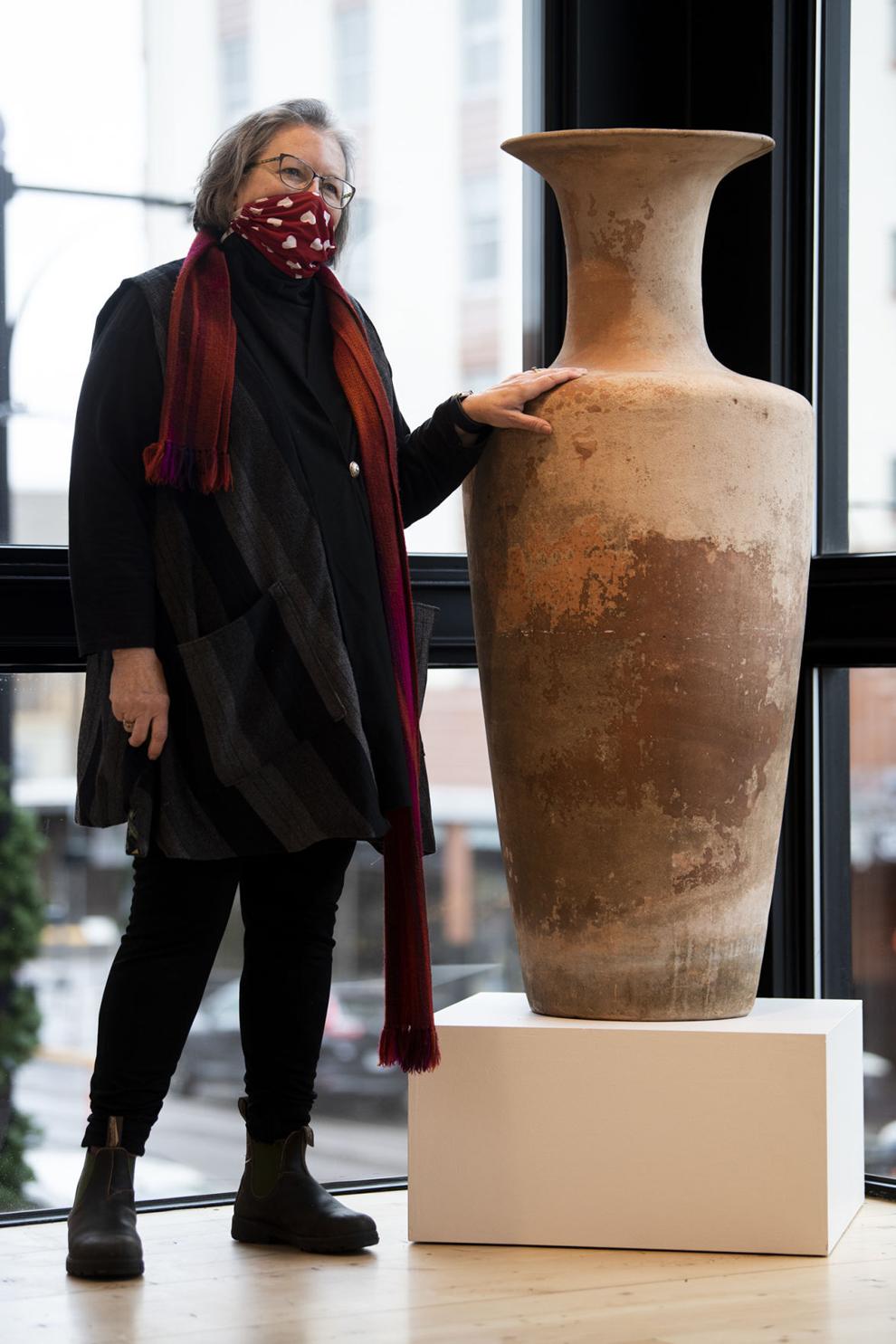 The pot, meanwhile, ended up on a tangled journey of its own.
In about 1966, Molly's uncle, "Denny" Galusha, came to Helena to visit family and check in on the Bray.
"He went to see it, what shape it was in, and he was furious," she said. The property was getting vandalized, for instance.
He rallied some friends. "So they went out in the dead of night" and stole the pot, she said. They stowed it in a fallout shelter that Molly's father had built at their house. It was left there when the family moved to Minneapolis.
When Molly returned to go to school and care for her grandmother, who the Buttercup Cafe is named after, she happened to meet the man who'd bought their house. She asked him if that big terra cotta pot was still in the shelter, and he said she could come by and get it.
That was 1977. Since then, she's held onto it and move it around their house from room to room. Never outside, though, since that felt risky.
Galusha doubts that many of these large garden-style pots are left — terra cotta is fragile, and the style itself has gone in and out of fashion.
She described the Bray as "a magical place" she's known since she was a child, through to adulthood serving on the board — and she and her husband decided to donate the pot and return it home.
Bray was an avid gardener, and kept a small triangular plot of colorful flowers on the property. (Galusha said locating it was an "anthropology project," to dig out all the silt that had buried it. They found serpentine paths and remnants of fencing, for instance.)
The plan is to bring the pot to Bray for the entryway to its new gallery, with more biographical information on Bray and his interests — gardening and art, theater and music. Before his death, he'd dreamed of expanding the foundation into other art forms beyond ceramics.
"He was a Renaissance man of a supreme order" with "peripatetic interests," she said.