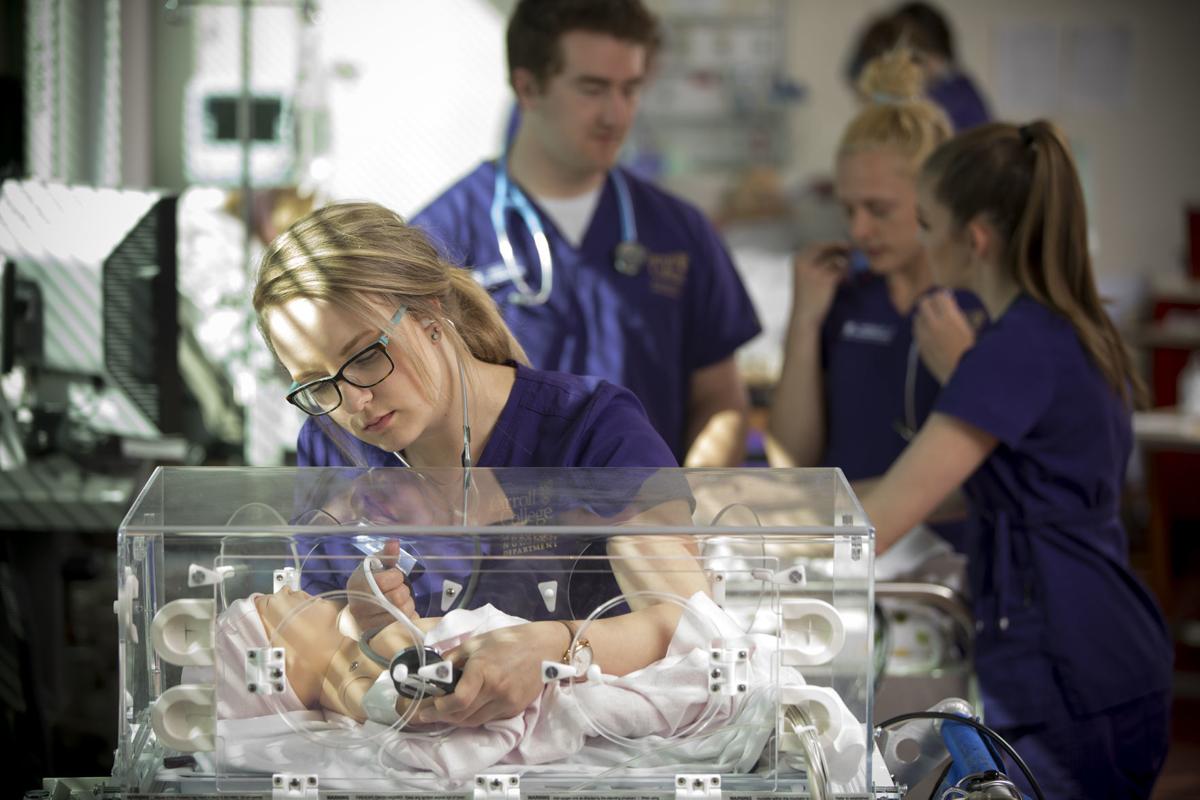 A new Carroll College program that will allow those with a bachelor's degree to earn a nursing degree in 15 months is set to start in May.
The first round of this new program will see up to 20 students take classes from May 2020 to August 2021. Students will earn 57 nursing credit hours and over 800 clinical hours in what Carroll President John Cech called "an intensive program" that includes nights and weekends. By the end, students will have earned their baccalaureate degree with a nursing major and the right to be called a registered nurse. 
Applicants are required to hold a bachelor's degree with a GPA of 3.0 or higher. Additional prerequisites for the program can be found at carroll.edu under the "accelerated nursing" tab.
The idea for an accelerated nursing program came from Cech, who is a former deputy commissioner of higher education for the state of Montana. During his time in that role he gained insight into the constant shortage of nurses.  
During his first year at Carroll, where he started in summer 2018, Cech spent significant time visiting with hospitals around the state asking what higher education could do to address their needs. "We need more nurses" was an answer Cech consistently received. 
"This is a game-changer for Carroll College and for Montana," Cech said. "It helps address a severe shortage of nurses in the state."
According to the American Association of College of Nursing, around 1 million nurses are expected to retire in the next 10 years. Cech believes programs like this one are a critical first step in addressing this shortfall. This rings especially true for critical access hospitals in Montana. 
Carroll Nursing Department chair Karmen Williams said one of the reasons it can be hard to get into a nursing program is the lack of staff to educate students. However, Williams is working to address this potential issue by working with Carroll's Helena partners Shodair Children's Hospital, St. Peter's Health and the VA Medical Center to ensure that there is enough space for clinical hours. 
Williams said the program is set up in modules but is ultimately the same as the college's four-year registered nursing degree. 
"In the past five years we've had 31 baccalaureate students who return for nursing in our traditional program," Williams said. 
This is the demographic Carroll hopes to serve with this program -- anyone young and old who may be seeking a career change.
"These students may look like all of us," Cech said. "The good news is they get to decide where they want to live and work afterwards. Nurses can go nearly anywhere."
According to Cech, Carroll has been receiving lots of positive feedback from its partners for implementing this program. He specifically mentioned the Montana Hospital Association working with Carroll in discussing the need for nurses and how it could set up an accelerated program like this one. 
Over the next year, Carroll is investing $2.5 million into its nursing program. This includes a $1 million donation from the E.L. Wiegand Foundation, which supports Catholic education. Additionally, Cech said two additional programs will be coming to Carroll soon, a master's of social work and a doctorate of nursing practice. 
Applications for the new accelerated nursing program are due by March 20. Cech said residence space will be available for those interested.
Applicants should expect to be full-time students. Both Williams and Cech said students will be too busy to have a job with the pace of this new program.