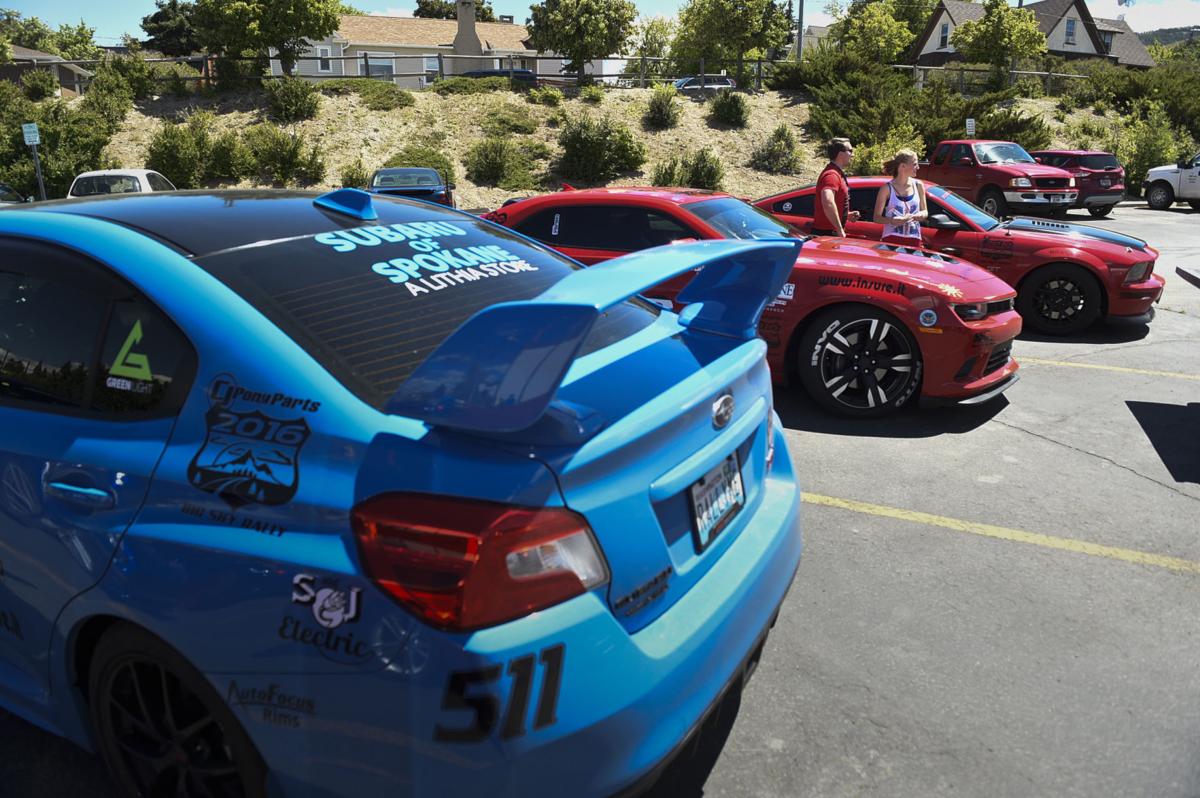 Sticker-clad sports cars rolled through Helena Tuesday afternoon as Rally North America sped across Montana for its first event in the western United States.
The 77 cars staged under Skypoint in Billings Monday to begin the five-day, four-state Big Sky Rally. The teams will navigate a meticulously planned route with stops in Big Sky; Helena; Great Falls; Kellogg, Idaho; Kennewick, Washington, and finishing in Portland, Oregon. The teams accrue points along the way by taking photos at checkpoints.
At the Helena Chamber of Commerce on Tuesday, Mike Mergenthaler checked in cars and snapped photographs. Teams needed to check in at several locations including Big Dipper and the Cathedral of Saint Helena as part of their visit to the Capitol City.
"The first few cars were in a hurry but the last few have been taking their time," Mergenthaler said. "We've had a wide array of cars and so far from Pennsylvania, New Jersey and Virginia."
Race organizer Tony Intrieri said he scouted more than 100 towns while mapping the route. He selected Billings as the starting point for a number of reasons, but the tipping point was the city's willingness to provide two blocks of prime real estate on Broadway to serve as the starting line.
Intrieri said he spent more than 1,000 hours developing the route. But he couldn't plan for Montana's unpredictable weather. On Monday, snow showers and high winds closed Beartooth Pass, one of the Rally's first destinations. The weather forced a detour west through Livingston and into Yellowstone National Park through the north entrance.
"When you look at this part of the country, we're all drivers, so Beartooth is one of those roads you want to drive," Intrieri said.
He said teams may enter any vehicle they're comfortable in. The pack wasn't limited to Corvettes, Mustangs and Challengers. Vehicles ranged from a right-side-drive Nissan Figaro imported from Japan to a Winnebago motor home. Some of the cars were personal vehicles modified and owned by their drivers, while others were rentals fresh off the lot.
Alex Cummings, of Billings, found his rally car on Craigslist and purchased the 1990 Camaro RS for $800. He spent eight months getting the car roadworthy and replaced the suspension components, brakes, tires and wheels.
"It doesn't look like much right now, but it looked even worse, believe it or not," he said.
Cummings enlisted his father, Barry, as navigator and they outfitted the Camaro with two GPS units and a citizen band radio to communicate with other cars to find the best possible routes. Cummings said he also has a trunk full of tools in case the old Chevy breaks down. He joked they'd get to Portland one way or another, even if his dad has to push.
The other rally teams shared his lighthearted attitude. The several members of Team Lumberjack donned matching red flannel shirts, suspenders and belts holding shiny new axes. They're contenders for the best costume/theme award handed out at the end of the trip.
While the participants are having fun roaming the region, they're also supporting a good cause. This year's rally raised more than $118,000 for Camp Sunshine, a Maine retreat for families with children diagnosed with life-threatening illnesses.
The rally began with a staggered start organized by the teams who raised the most money. Team CJ Pony Parts' Ford Mustang was the first car to leave Skypoint and raised more than $13,000 for Camp Sunshine.
Intrieri said every rally's proceeds and sponsorship money goes to a different charity. Rally North America hosts two events per year, with its first held in 2009. Camp Sunshine is the first charity to benefit twice.
Billings residents Brad and Bonnie Koch found out about the camp when their daughter Bria was just 7 months old. She was diagnosed with a rare disorder known as Diamond Blackfan Anemia and the family traveled to New York to see a specialist. The doctor had recently returned from a trip to Camp Sunshine and recommended it to the Kochs.
Bria, now 10, has been to camp several times. She was there in 2013 when Rally North America made a stop at Camp Sunshine.
Brad Koch said he hopes the Big Sky Rally raises awareness for Camp Sunshine and more families apply for the program.
"It's just nice that Camp Sunshine is coming west because it's already well known in the West," he said.