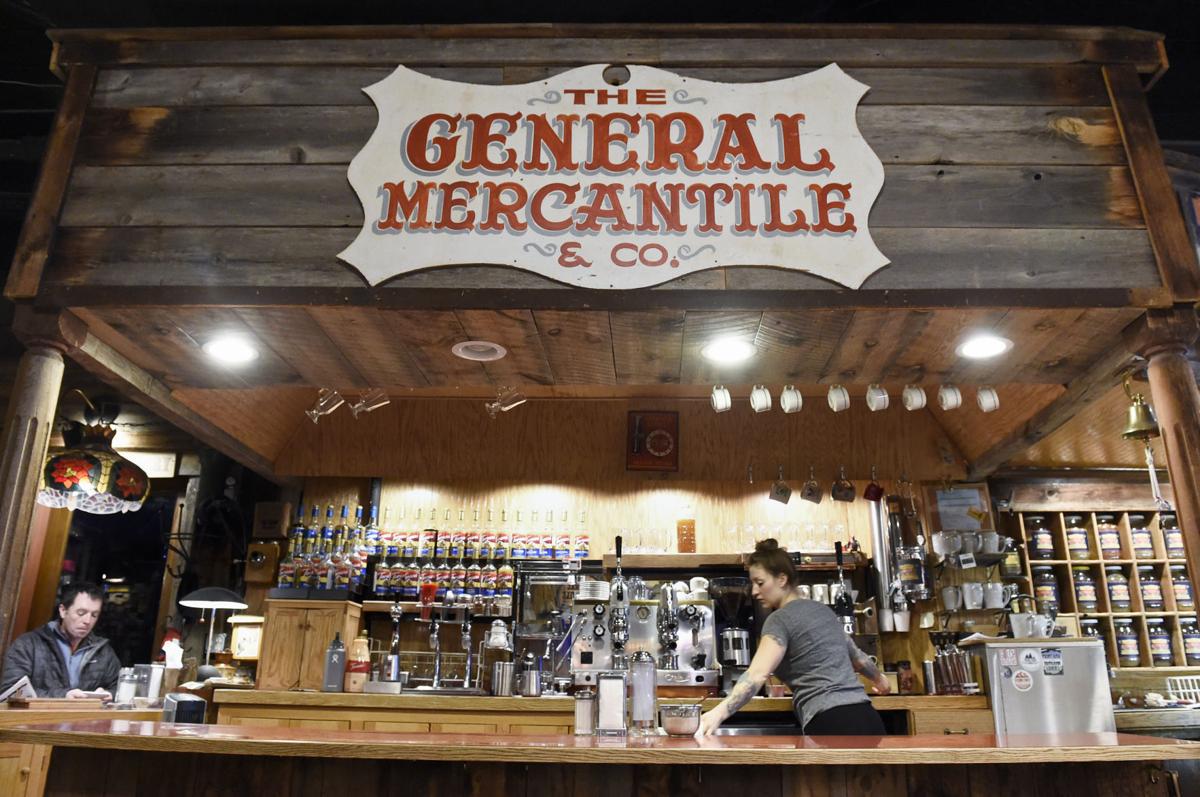 So what is it about the Merc that keeps drawing us back?
It's more than the delicious, strong coffee -- brewed one cup at a time. But that helps!
There's an intangible something about the place with its hominess, its weathered barn wood walls and its distinctive dash of wacky humor that draws us in the door year after year.
In May, it will be 46 years since Ray Domer first opened the Merc's doors at 413 N. Last Chance Gulch.
It's got that sweet mix of a happy hub of activity, great music in the background and inviting nooks for quiet conversations.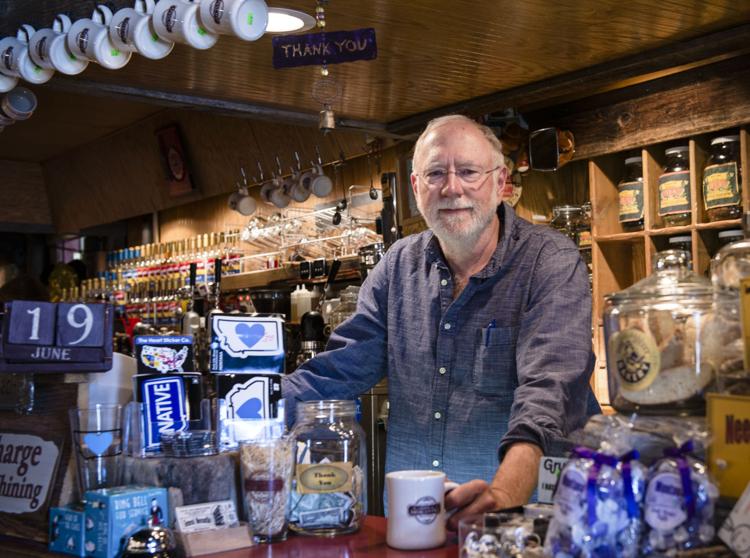 The distinctive look and feel that Domer created was inspired by trips to his family's ranch, and Virginia City and Pike Place Market.
"All those places were in the middle of my heart as a kid," he said in a 2013 interview on Home Ground Radio.
For many of us, the Merc's the go-to place to start the day, meet a friend or look for that special quirky gift.
Need a yodeling pickle, or a tin of bacon-flavored mints, or maybe a pair of squirrel underwear? Domer's got it. Along with shelves of old fashioned candy and gourmet chocolates.
And then of course there's those tall glasses of hot chocolate topped with a tower of whipped cream.
But for all great things, change comes.
Domer had to pass the coffee mug, so to speak, to new owners Lindsey Barnes and her husband Aaron Lamphear in November. Barnes has been Domer's right-hand helper for 13 years and always hoped to buy the Merc some day.
It just came sooner than she thought.
Domer is suffering from Lewy Body Dementia. His family -- Kim, Katie and Carly Garrison -- decided to talk about his diagnosis openly to raise awareness about the illness.
"Potentially, it could help other people," said Kim.
They focus on the good times at the Merc, and there have been many.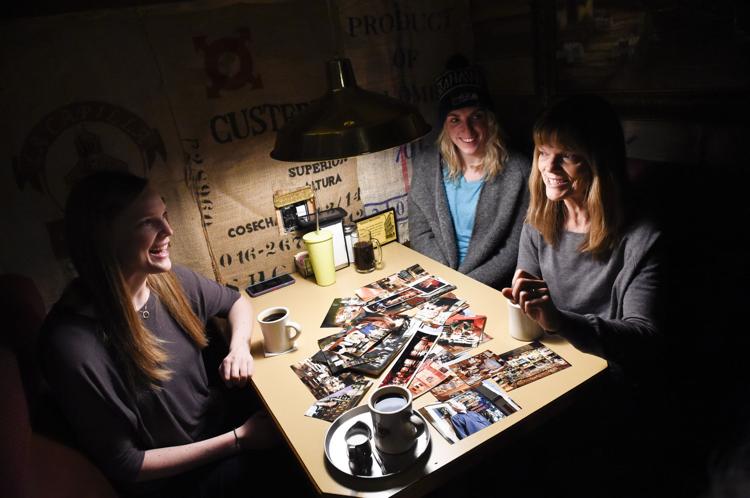 The January morning we met there, the booth table was spread with photos of Domer and many of the folks who've been part of the Merc over the years -- from regulars to friends to baristas past and present.
And what's so fun is how they sometimes overlap.
One of this reporter's fondest memories was stopping by the Merc one morning and finding a regular customer behind the coffee bar taking orders and making coffee. Domer and his staff had been hit with the flu.
Per usual, the morning of this interview, the Merc was hopping with customers in need of their daily caffeine fix.
While some folks could get stressed by a rush, it's just the sort of scene Domer loved.
"It's a party!" he'd announce in his cheery, laid-back way.
"He always felt like he was playing," said Kim.
For him, running the Merc was his calling, not just a job.
In his radio interview, he recalled a visit to Seattle's Pike Place Market at age 4 and smelling the tea in one of the shops.
"I told my mother I would be a tea merchant someday," he said. 
By 12, he had started a pet shop in his parents' basement in East Helena.
Despite owning the Merc for 45 years, it never got old to him.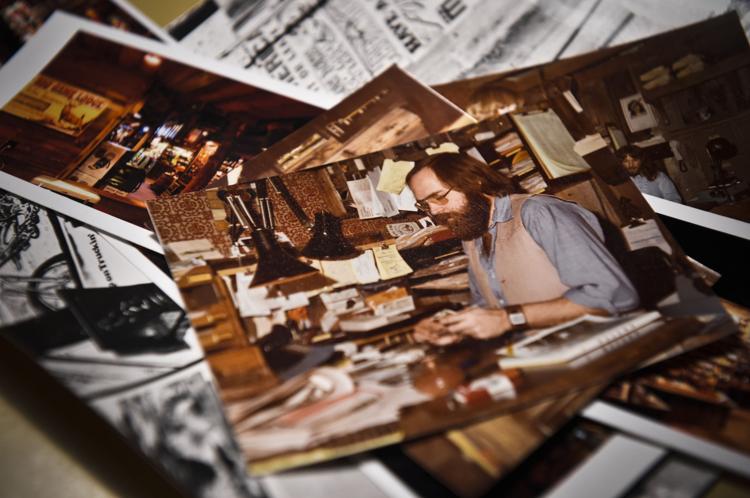 "I feel really good getting up in the morning and coming down to work," he said on Home Ground. "I really enjoy the people who come in and out of the store."
And that's the attitude barista Indigo Maynard and her co-workers plan to carry on.
Maynard first came to the Merc as a child. She recalled feeding the fish -- Japanese koi -- in the store's fish pond, and also playing in the "treehouse." 
Both the fish and the treehouse, also known as the "Wee Sweat Cafe" -- a miniature coffee shop just for kids up in the store's loft -- still draw the tiniest folks in the door as fans.
Over the years, Domer would reinvent the store, Maynard said.
He started out with weekly van trips to Seattle to load up on "whatever was cool," said Carly, because there was no UPS service to Helena at that time.
"It changed gradually from what it started out," Maynard said, mentioning jewelry, and a small greenhouse with plants, and maybe even music.
Being a perfectionist, when he went into selling coffee, he learned how to do it just right.
"My favorite memory working ... with Ray was just the way he could hold court and tell a story to a whole bar of people," said Maynard. "He had a pretty magical way with people.
"That's what I remember most fondly, his ability to tell a story and put people in a better mood."
"I think we all should be ecstatic that his legacy is going to continue to live on," she said.
The Merc plans to stay the course Domer set for them.
They'll keep the same drinks, the same atmosphere, the same feel and the same friendliness, Maynard said, and Barnes echoes.
"He created this world," said Katie. "It's an embodiment of his spirit in this store. He would put so much love into it."
In Domer's radio interview, he talked about values his parents taught him that he carries with him: "You're nice. You're kind to people. It's a great way to live your life."
"Domer was always friendly," said longtime customer Steve Hogan. "He was never judgmental. I've been coming here for 15 years."
Hogan's a regular at the counter, where folks chat with each other about books and politics and news.
That morning he was sharing "Bar Town," a book about Anaconda bars, with another customer.
"This is extreme-non-Starbucks kind of place," Hogan said. "It's more than a cup of coffee, you have a conversation."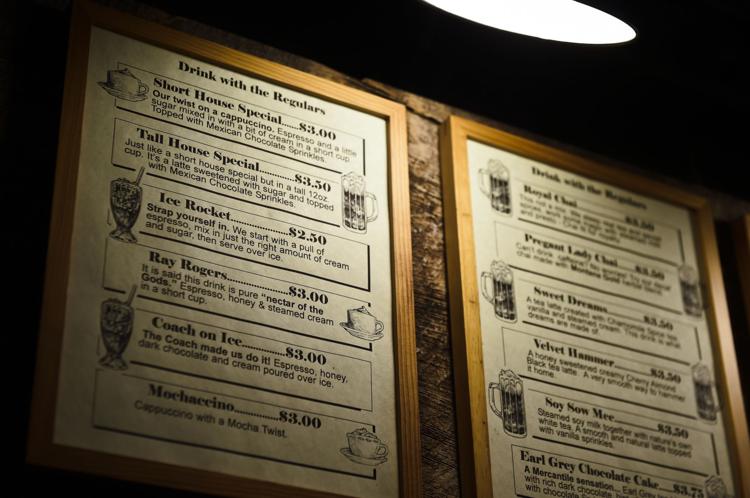 The business news you need
With a weekly newsletter looking back at local history.