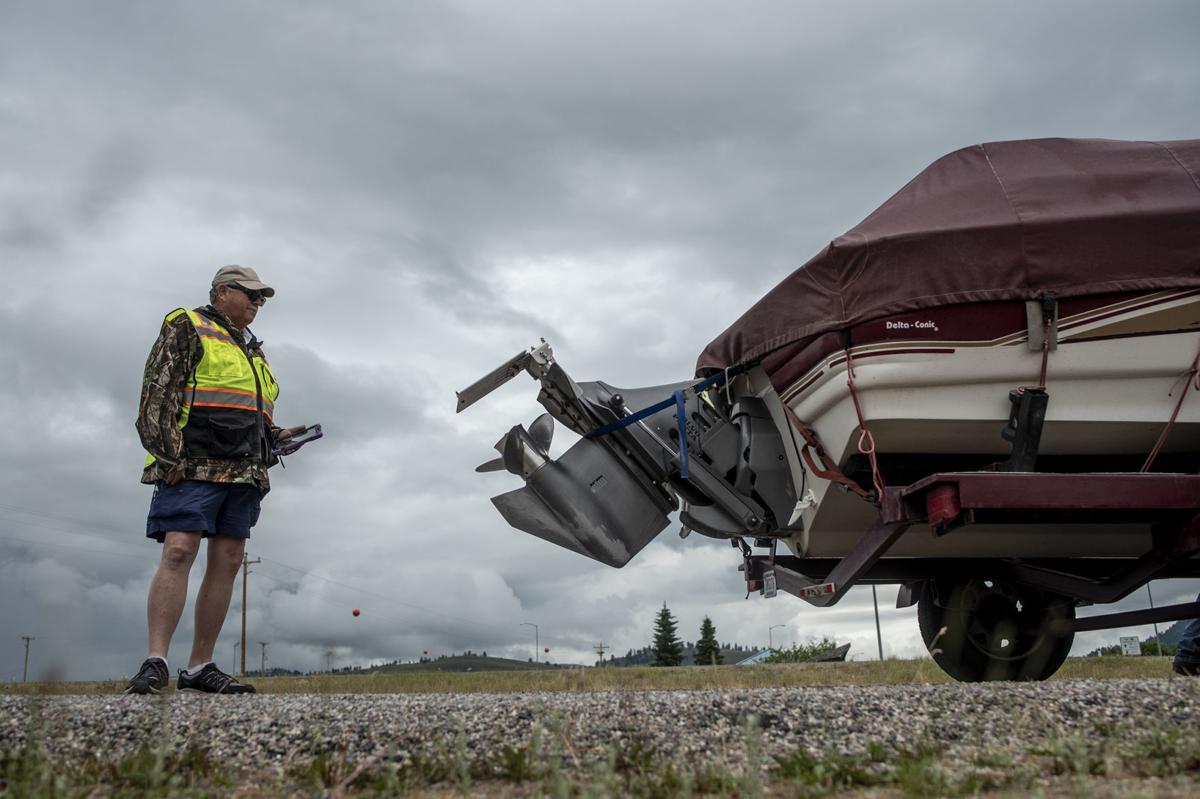 Montana has already set an annual record for the number of watercraft inspected for aquatic invasive species, and inspections will continue through October.
Montana Fish, Wildlife & Parks inspected more than 110,000 boats and other watercraft as of last Friday. That's up from just under 110,000 inspected in 2018 through the state's program to stop the spread of invasive mussels, plants and other wildlife.
"I think the public's acceptance of the program is great. You still get that cranky person out there, but we're trying really hard to be as efficient and as effective as possible," said Tom Woolf, aquatic invasive species bureau chief with FWP.
The state added two additional inspection stations this year and has worked with other entities such as the National Park Service to partner on additional stations, he said. At 45 inspection stations, 14 boats carrying invasive mussels were stopped this year. That is down slightly from last year, when 16 boats were stopped carrying either quagga or zebra mussels.
While that may not be enough to prove a trend, Woolf believes education campaigns in Montana and across the West are having an effect, and boaters have become increasingly accustomed to inspection stations and how to stop the spread of invasive species by cleaning and drying watercraft.
Game wardens also wrote more than 100 citations – an uptick from last year – and issued more than 200 written warnings for failing to stop at inspection stations.
In 2016 larvae from invasive mussels were detected in Tiber Reservoir and suspected larvae were found in Canyon Ferry Reservoir – the first positives in the state of Montana. In response, FWP launched a major increase in inspection and water-testing efforts and the Legislature put millions of dollars of additional funding toward the program.
You have free articles remaining.
Once established, invasive mussels cause myriad issues for both infrastructure and aquatic life. A state report estimates a worst-case infestation could cost from $100-$230 million annually, and if mussels infested the mussel-free Columbia River drainage, costs could run much higher for Montana and downstream states.
Mussel infestations can blanket beaches with sharp shells and clog pipes for municipal water and irrigation, as well as infiltrate dams.
As filter feeders, mussels eat plankton and cause the water to clear, removing food from other aquatic life and causing plants to grow rapidly due to increased sunlight.
New regulations have been implemented in Montana, including mandatory inspections for out-of-state boats, and mandatory decontamination for boats coming from Tiber or Canyon Ferry, as well as wake boats with large internal ballasts. Mussel larvae are known to live in boats wherever standing water is present.
Since those initial positives were found in the reservoir water samples, inspections have not found adult populations and no other water samples have turned up larvae, including about 1,500 samples taken this year. FWP plans to bring in mussel-sniffing dogs to search the shorelines later this fall to do additional inspection, Woolf said.
Along with the standard practice of sampling water for larvae, the advancement of eDNA technology may allow some earlier detections of mussels. Inspectors have found no samples positive for DNA this year, but they did last year, and researches have debated how to use the technology.
The major challenge with eDNA, Woolf says, is communication between researchers and how to frame a positive sample. He characterized eDNA at this point as a "smoke alarm" for additional testing.
"Mussel DNA doesn't indicate a live population, it could indicate dead mussels were on a boat launched someplace, bird droppings can move DNA, and there is the reality of false positives that occur too," he said. "There really needs to be a lot of legwork to develop the application of the science and incorporate that into management."
FWP plans to continue engaging with researchers and other states and provinces, including at conferences later this year, to better understand the use of eDNA testing, he said.
Reporter Tom Kuglin can be reached at 447-4076 @IR_TomKuglin