More than 250 wholesale buyers, mostly from Montana but a few from Idaho and California, visited Helena on Friday to see gifts and food on display by 157 exhibitors that have been granted the Made in Montana or Grown in Montana label.
The annual Made in Montana Tradeshow for Food and Gifts is made up of artists and food producers from around the state who are ready to make the step from craft show sales to wholesale orders. Also included is the Native American Made in Montana Pavilion, which this year featured products from five vendors.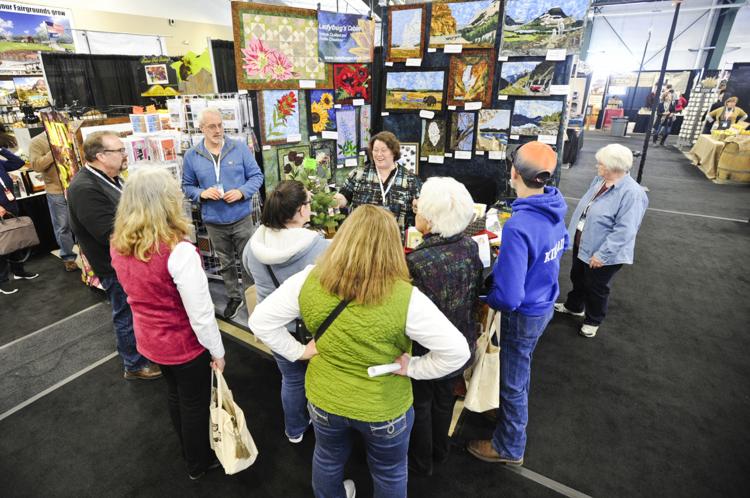 "We're going to look for things that are different," said Dave Posey, co-owner of Lucky's Main Street Mercantile in East Helena, before the event. "What we don't want is the same product that all the (Montana) tourist towns have with their name on it."
His wife and Lucky's co-owner, Annie, was looking for things that have been recycled, handcrafted and sourced as locally as possible.
Katie Hill, owner of the store Butte Original, was sending her team of buyers to Helena to look at what was being offered this year.
"The biggest thing we didn't realize, until recently, is we look for things we can customize," Hill said. "Things other stores don't have."
One of her favorite businesses is Roseworks MT in Bigfork. The company is known for its handcrafted copper originals.
John Rose, artist and owner with his wife Kim, makes ornaments, jewelry and artwork out of copper and hand tools designs, words and more into them. No two pieces are the same, not even if he tries.
"We started off with just their ornaments," Hill said. "Now we work to create new designs with them."
This year the trade show introduced 40 new exhibitors to buyers.
"It's so great," Hill said. "I think adding new artists every year gives us a great reason to go. Otherwise we can just call the ones we know from last year."
Buckaroo Bling owner Jelena Louie had a booth for the very first time at the Made in Montana Tradeshow. Louie is new to Montana. She arrived in Kalispell from South Dakota last year and began looking at how to get in touch with the business community. She heard about the program from the chamber of commerce. She applied for and was granted Made in Montana membership for her American-mined turquoise and deer leather jewelry. While craft shows, online and consignment selling aren't familiar sales venues, Louie has yet to sell wholesale. At the trade show, she hoped to get connected with a wholesale buyer as well as meet the Montana public.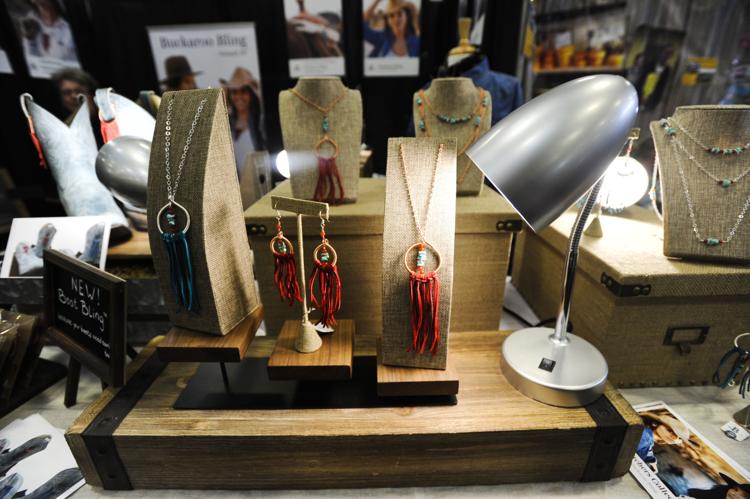 "I'm prepared," she said. "I have my processes in order and can make 100 items of one design. I know how long it takes to do that."
Preparing for the show taught her so much, she said. She has connected with repeat exhibitors and been able to ask them questions and learn from their experiences.
She brought something new to the show and quite possibly new to Montana. She makes accessories for cowgirl boots. They look like earrings that can be attached to bootstraps.
"Your boots need earrings too," she said. "You can make the simplest boot into a fancy one."
Louie said the Made in Montana program has introduced her to a community where she has been able to communicate with other business owners. She looked forward to meeting them in person.
This is the third year Casey Burnette of Casey Curtis Designs in Hamilton has participated. She said she made and learned from many mistakes her first year. Her booth accoutrements were heavy and hard to manage. She felt like a real mess going in, and being frazzled from the beginning didn't help her throughout the event.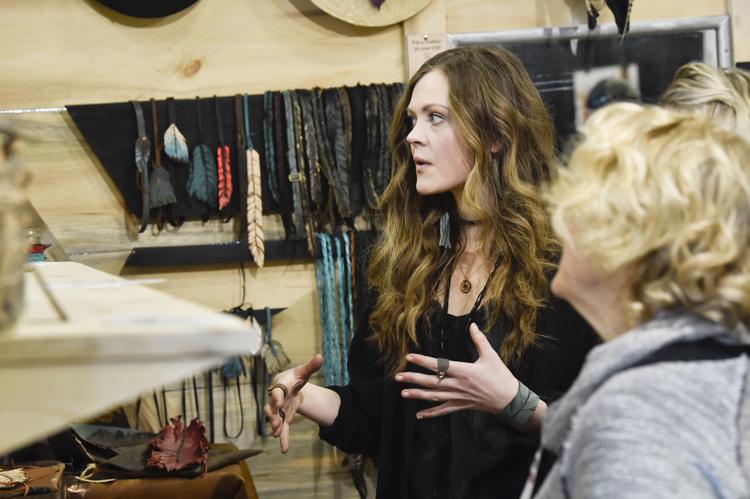 "I learned a lot about wholesaling and taking orders," Burnette said. "It's such a great show because you have small businesses throughout Montana and they come together and were really kind and compassionate and taught me a lot at my first show."
She said she attended the seminars at the trade show and learned a lot thought other vendors about tips and tricks.
Her second show, she received recognition for her booth set-up and was given honorable mention for best of show.
"It was such a victory after being such a hot mess that first year," she said.
Her biggest takeaway and advice for others is: "Even if you don't feel like you're ready, show up and see what the customers have to say, see what other vendors have to say. That's your starting point."
Then, she advised, come back the following years and apply all the knowledge you glean from the events.
At her second show, Burnette got an exclusive contract to sell her Western-style jewelry, accessories and apparel at Head West in Bozeman. This has allowed her to cut back on the number of trade shows she does each year and instead focus on one big show each season.
The Native American pavilion is overseen by Heather Sobrepena, Office of Indian Country Economic Development program manager. Sobrepena works with the Native American artists to introduce them to the trade show experience. She brings in four or five vendors under the pavilion and guides them to being able to successfully show their wares on their own.
"It's working," she said. "This year there are two vendors from last year's pavilion who are showing out in their own booths."
That alone is testament for the program's success.
Pauline Mininger, known all over the state for Pauline's Rocky Mountain Barbecue Sauce, has been making her sauce for 39 years and participating in the Made in Montana Tradeshow for the 21 years of its existence.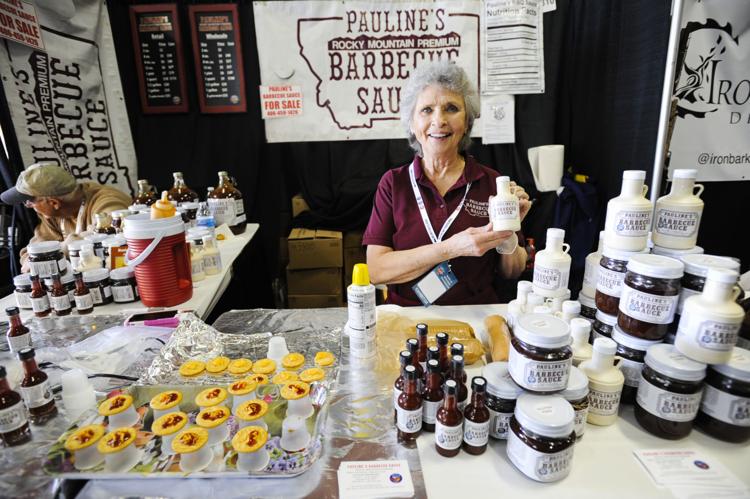 "I do it for the people," she said. "The people are wonderful, the vendors are awesome and everybody loves my samples."
Mininger is 81 and three-quarters years old. She makes the trek from Drummond to Helena to set up her booth, complete with a barbecue sauce fountain, as a labor of love as well as a way to connect with buyers from all over Montana and beyond.
"Every jar I sell is a connection," she said. "I get big orders on the first day and hope they take it all with them."
Jars and jars of barbecue sauce come in with Mininger. She hauls them to town, sometimes taking two trips, and displays them in her booth. She believes putting the product in plain sight is what sells best: that and the aroma wafting down the aisle bringing people to taste her samples.
She loves talking to other vendors and people just starting out in business. She advises them to get involved and learn. Being out in the community and making connections is the best way to sell anything. If you do it with love, she said, it is even better.
"Participate," she said. "It will give you smile wrinkles."