The neon Lucky's sign on Main Street in East Helena once again is lit and beckons visitors to the candy shop and ice cream fountain within.
Lucky's Main Street Mercantile has been in the works for two years and is the result of a labor of love by owners Dave and Annie Posey, who also own Main Street Eats on the same block.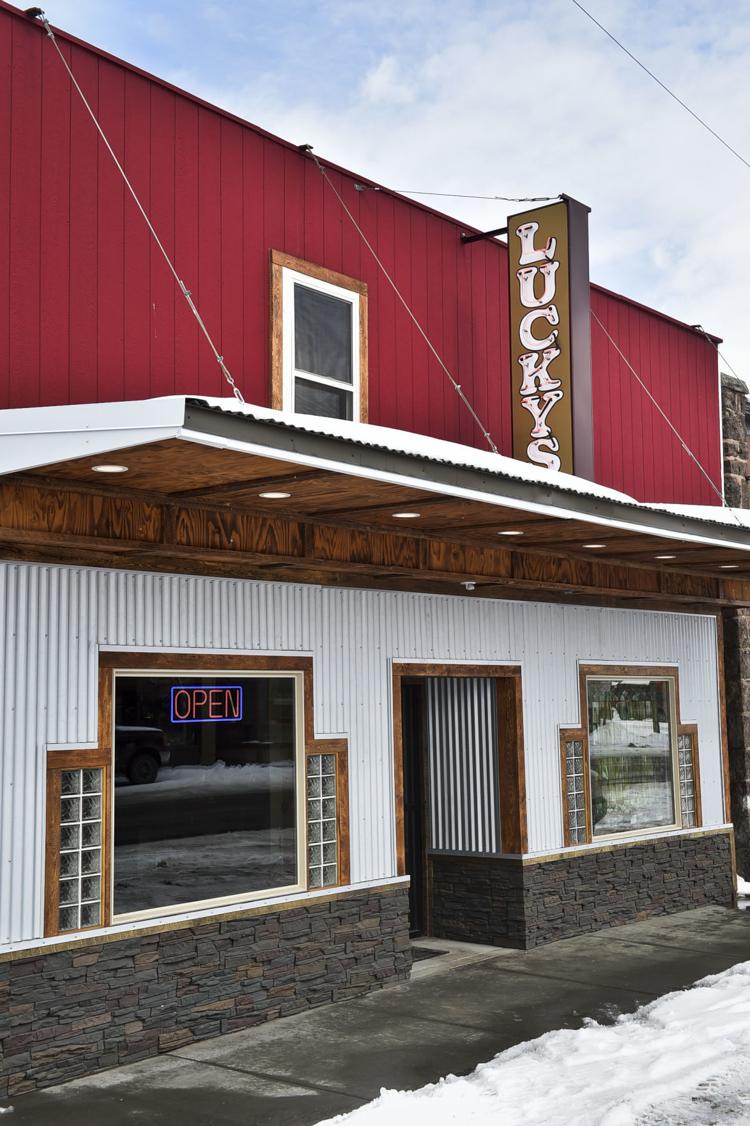 The building is more than 100 years old and originally was Lucky's Confectionery, an ice cream fountain and candy store, owned and operated by Frances Rusek. The shop opened in 1913 and operated as a soda fountain and ice cream shop for 70 years.
"She also sold bullets and hunting and fishing licenses," Annie said.
"We thought it would be cool to take it back to this," Dave said. "We started out to invest in Main Street; we thought it would be cool to make this someplace for after a meal, a great place in summertime to go get dessert."
The front of the shop is an old time candy store. Bins and canisters are filled with shiny wrappers and recognizable shapes that beckon shoppers to lift the lid. Scoops are available for people to mix and match their favorites and fill their own bags. Bright lollipops and swirled suckers stand upright in a corner post, chocolates pretty enough to be considered art sit smartly in a glass display cabinet.
The candy bins are Annie's responsibility and she sticks to the "good retro stuff." People can come and find many of their favorite hard candies, taffy, gummies and hard candy necklaces. She even had candy cigarettes but those were the first to sell out, she said.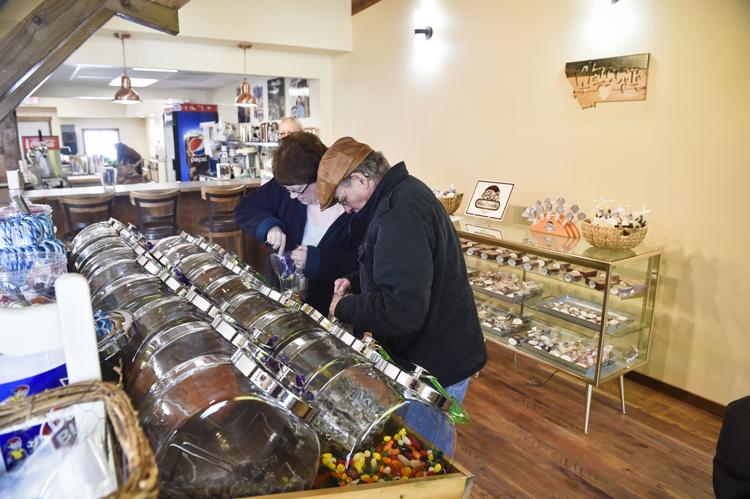 Tall stools line a counter behind which glass ice cream dishes shine and a soda fountain stands. Copper coffee presses are lined up on a shelf ready and waiting.
Lucky's has been open barely a week and the Poseys said there has been a steady stream of customers. Quite a few older folks who remember the original store are coming in with grandchildren, Dave said. Families are coming in and, amazingly enough, teens are sitting at the high tabletops and talking to each other.
Dave said it makes him proud to look around and see what they have generated.
Two weeks of research went into the ice cream products they stock. Taste and delivery consistency were most important. They selected Columbia Valley Farms and Cascade Glacier, both from Oregon, as their menu mainstays. There are eight flavors. In the summer, the ice cream flavors will expand and rotate. Local ice creams also will rotate through the menu.
There are 17 fun toppings to choose from and eight specialty sundaes.
Dave's favorite is the Bacon Maple Sundae.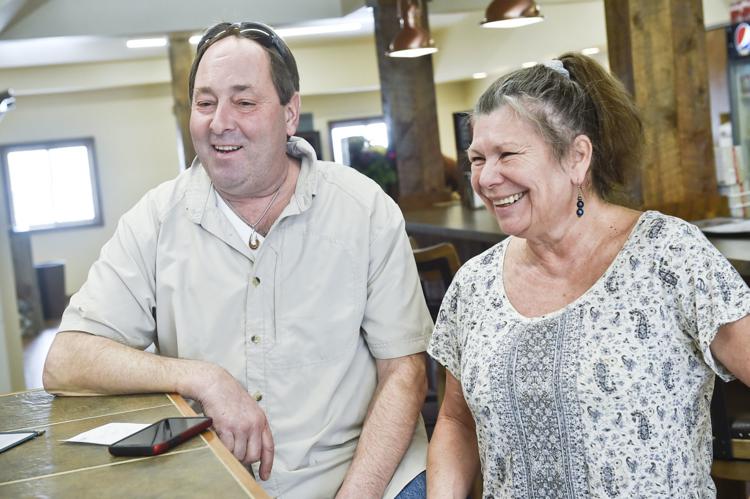 "You know why?" he asked. "Because when I said it should be on the menu, she rolled her eyes," he said pointing to Annie. "Lots of guys go for it."
You have free articles remaining.
Annie's favorite is "the Brownie Down Under … or maybe the … but definitely the good 'ol fashion chocolate malt," she said
The soda fountain is filled with Big Sky Soda, "they are best for floats," Annie said.
Many of the soda counter ingredients are Montana made. The brownies and cookies for sundaes are from Park Avenue Bakery. The artisan chocolates and handmade chocolate dipped waffle cones are by Perl's Artisan Chocolates.
For those who have a hard time deciding, Cherie Barnes is at the counter full time and is full of good suggestions.
"This is so fun," she said. "I'm a kid in a candy store, how could I not be excited by this."
Barnes said there is no age limit to being a kid and that she has a good time watching all of them thrill at their finds.
Behind the soda fountain is a room for the mercantile items. Keeping it local is important to the Poseys and they sell only Made in Montana items. Jewelry, soap, art and pottery are available for purchase. Most have been brought in by local artists.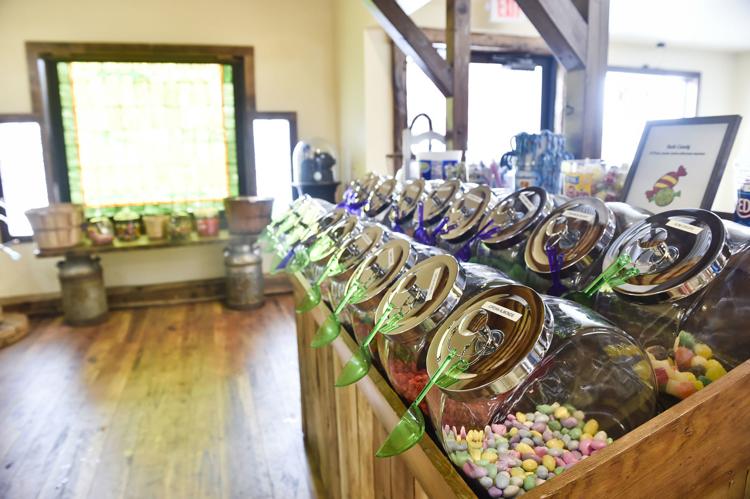 When the Poseys purchased the building, it was little more than four walls.
Dave and Annie hired local contractor Jake Earnheart to do a complete rebuild. Annie said they told him to reuse as much of the original material as possible and are thrilled with the result.
Old flooring has been incorporated into the banister leading to the upstairs office as well as used to wrap support beams. The soda bar front and the door posts have been constructed out of other salvaged wood.
Many other parts and pieces to the place have been recycled. The booths came from a soda shop in Livingston and the display tables from an outdoor wedding. The chocolate case was a Craigslist find that had been used by a woman to display her rodeo and horsemanship ribbons and trophies.
Even the stained glass in the front window is a find with a story. It had been through 18 states until purchased by Dave and stored until its use presented itself.
"It went from California to Pennsylvania to Arizona to here," Dave said. "I had it in storage and had the front window built to house the piece."
The Pepsi signs used as wall décor were a gift from a customer at the restaurant to Annie. She stored them nearly five years ago not knowing when or how they would be used. They are a perfect fit.
"There are so many gifts of love," Annie said. "It's been a labor of love."
Lucky's is open noon to 8 p.m. Wednesday through Sunday at 10 W. Main St. in East Helena.