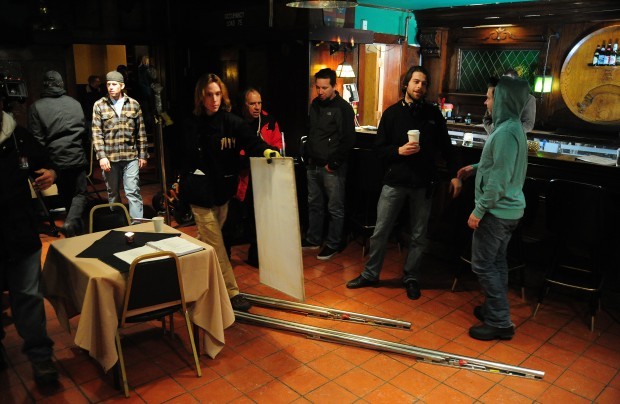 Isaac Marble will tell you that when it comes to making a low-budget movie in Montana, it's all about getting the money on the screen.
That means calling in favors, working essentially for free and making sure that the capital invested in the project is seen in the quality of the work. For those familiar with movie-making, it's all about production value.
"It's probably my favorite aspect," said Marble, who is producing his second film to be shot locally, "Crimson Winter," which wrapped up in May. "You have a limited amount of resources and you have these unbelievably creative things you want to do."
Big cast and crew? Let's call up some friends.
Need wilderness scenes? Just look around.
Shots from a helicopter? He's got a guy who knows a guy.
"We can make our resources go a lot further than we would in L.A." Marble said.
When "Crimson Winter" finishes up its post-production editing, sound-mixing and other special effects, it will have cost the production company, Interwoven Studios, roughly $350,000. That's above their earlier expectations for an "ultra-low budget" film of $250,000, as defined by the Screen Actors Guild.
Still, the group has been able to pull off a project they can be proud of, thanks to some savvy business sense and the support of their local community.
Making a movie isn't cheap. Marble learned that the first time around.
Just 18 years old and through his first miserable semester at college in Michigan, the Roberts native returned to his home state to attend Carroll College and began plotting a course to produce the first independent film he's worked on, "My Favorite Movie" - a coming-of-age comedy involving college students.
"I was definitely in way over my head," he said looking back.
He and a friend, Martin Rogers, had a script and a dream, and figured it would cost roughly $76,500 to make it a reality.
"Why a 500 there? I have no idea," he said.
The two young men began searching for investors. They spoke about their project, about their passion to get it done and the possibility of making money on the film. The two set up an escrow account to ensure that all capital would go toward the making of the film and not toward their personal accounts.
"It's very high risk with the possibility of a high reward," he told prospective investors.
Thirteen investors - all of them local - lent the two students a few thousand dollars here, some more there, and the project was under way.
"That was 2008, and now it's 2011. And, 'My Favorite Movie' is probably going to be done this month," he said.
What took so long? Marble puts it bluntly: "We ran out of money."
"Small problems (off the set) compounded into it taking three years to finish the film," he said. "Some films can take 10 years."
He's found it easier to get money with a finished product, showing that it has, indeed, been filmed. But, the whole thing has been a learning process. One that has been much smoother with "Crimson Winter."
With the passion of writer, director and lead actor Bryan Ferriter pushing the film, Marble and his fellow producers turned to their connections.
"They kind of met and pitched their movie idea to the board," said Zach Harding, a manager at the Montana Club. "We hosted the event on the sixth floor."
Marble had been a bartender at the Montana Club and asked for help. The response: 80 interested people showed up to listen as they spoke about the movie. The producers received their funding, and even came back to use the building in a bar scene. They weren't charged for the day.
"They pretty much cleaned up after themselves," said Harding, who had expected a crew of about 10 people, but watched as closer to 50 showed up for the scene. "I was pretty surprised with how official they were."
Harding said that the Montana Club is a non-profit that likes to promote the local art scene as much as possible, whether its for the symphony, Holter Museum or Myrna Loy.
"I think it's important to support those things, especially in this town," he said.
Brandon Day had never acted, never worked on a movie before Ferriter approached him to play a role.
"I was just working part-time and I didn't have too much going on as far as careers go," said the Carroll grad and former All-American linebacker.
But, Ferriter had known him since their high school football days, knew his work ethic and asked him to be a part of "Crimson Winter."
As the core group began having production meetings and going over details, Day became more and more involved. Eventually, he was asked to be the production coordinator.
"Talk to Isaac, he'll fill you in," Day remembers Ferriter saying.
When he asked Marble about his duties, the response was just a little more in-depth.
"You're a problem-solver," Marble said. "You'll figure it out."
As the film date came closer, Day grew even more nervous about his new position and title. When production ran into a snag - a piece of property where they meant to shoot a scene taking place in a cave was buried in too much snow to access - he quickly learned the ropes.
"Here's your problem, now solve it," Marble said.
The crew moved in town to shoot a different scene, meanwhile Day, Nick Milodragovich (an actor and producer on the film) and others scouted new locations in a hurry.
"We've been up in these hills for years and years," said Day, who grew up in nearby Clancy. "Bryan and I actually shared the same back yard."
What he considers his backyard: the Helena National Forest.
When the cost to run the crew each day is roughly $2,000, they needed to find a new location quickly. Day credits Milodragovich with finding the perfect spot.
"We ended up finding around 20 different cave locations in a day," Day said.
The old mine shaft used was on a private land, which kept the company from having to pay the state for filming rights. The group still had people sign contracts, granting them permission, but were essentially lent the land to shoot on.
"A lot of the actual monetary investments were friends and family from around Helena," Day said. "There were extras, friends and family also. We borrowed a lot of stuff, campers and trailers. We borrowed Parker Heller's Century 21 trailer.
"There's so many people that put in this or that, whether it's a big propane heater or a wall tent in the winter, or an RV or maybe just a truck to help haul everything; a hitch I didn't have. Being poor college students and poor filmmakers, we didn't have money for the stuff.
"The community was so huge in this, there's no way the film could be made without the community support."
Or his parents, for that matter.
Day used his parents' trailers for some of the scenes and his father, Mike Day, acted as caterer for a month, providing everyone on set three meals per day. When shooting in the freezing months between February and May, it can be among the most important factors.
"That's a huge benefit," Marble said. "If you want your crew to be happy, then they have to be fed well."
Especially when the core group involved were doing the picture for points - in other words, they won't see a dime unless the movie makes a profit - and those with SAG are getting the bottom of the wage scale.
The cast and crew - many of whom had experience on other projects and came from out of state - was one of the areas where the producers were willing to splurge.
Though relative unknowns, some of the main actors brought in were David Lee Smith ("Fight Club"), Patrick Gorman ("Gettysburg, Gods and Generals") and Paulie Rojas ("The Witches of Oz" miniseries), who added experience and professionalism to the cast.
Using the RED ONE camera, a top-of-the-line digital, to shoot meant having the picture quality of Hollywood films, and the company put more money into the special effects and even shots from a helicopter to capture the desolate nature of Montana wilderness.
They received a big break from Mark Taylor, the owner of Rocky Mountain Rotors out of Bozeman, for the use of his helicopters. Over the last five years, the company has regularly been hired to shoot for movies and TV, from the feature film "Unstoppable" to the TV show "Man Vs Wild" with Bear Grylls.
While it usually costs $650 per hour to rent the helicopter, Taylor gave the local guys a break, mainly because Milodragovich was coached by one of Taylor's best friends, Doug Forest.
"Doug called in a favor to me and said Nick is a great guy and they needed a break," Taylor said. "I've got a great relationship with Doug, he's one of the guys I trust with my life.
"We didn't make anything on those shoots, but it's all about helping them out."
The members of Interwoven picked Helena and the surrounding area because it served the project best, from forest fight scenes to the help they received. But, for big-budget productions, Montana isn't always prime real estate for shooting.
"We do have incentives, and they do help the film industry, but they're not really competitive with others," said Dr. Dennis Aig, a professor at Montana State University and film producer.
Aig was one of the backers for the Big Sky on the Big Screen Act, which enacted a 14 percent tax rebate on hired Montana labor and 9 percent tax rebate on qualified expenditures in 2005.
While the state was one of the first 10 to enact the incentives, it also ended up being left behind by others like Michigan and Louisiana, which have incentives in the range of 40 percent.
Canada also stole away movies. After "Far and Away," and "Horse Whisperer," were shot in Montana, movies like "Brokeback Mountain" (set in Wyoming) and "Open Range" were filmed in Alberta, where producers received not only a provincial incentive, but also a federal one. Those have since been scaled back while the weakness of the U.S. dollar also helps the American cause.
"The knee-jerk reaction is 'we can make the incentives better,' " Aig said. "But then you have to balance the income to see if that will work.
"I understand some of the problems. It does cost the state money, but the idea is you're also creating jobs for people."
Plus, "Film crews spend money. 'Horse Whisperer' was one of the best years Big Timber had," Aig said.
Major motion pictures are often looking at the bottom line when concerning cost, and if they have a decision to make between the forested areas of Montana, or those of northern Michigan, they're more likely to take the latter.
That's why the Montana Film Office, a component of Montana Promotions Division of the Department of Commerce, focuses on attracting firms with budgets in the $1 million to $10 million range, said manager Sten Iversen.
"We've been doing that for seven or eight years," he said. "In part, it's because of the creative control independent filmmakers have in locating their features."
Since they have more say in the finances, the independent filmmakers have more control where it can be shot.
Andrew and Alex Smith, the Montana-born brothers who filmed "The Slaughter Rule" with Ryan Gosling in their home state, said in a recent article with the Great Falls Tribune that they chose not to shoot scenes from their most recent project - which began shooting Friday - in Saskatchewan.
While directing "Winter in the Blood," which is based on the novel with the same name by James Welch, the Smiths chose to shoot along the Hi-Line.
"We felt it was more authentic by a long shot to shoot where the novel takes place," Andrew Smith told the Tribune. "Forty miles over the border might not be too noticeable in a New York theater, but the Milk River Valley, the Little Rockies are unique landscapes."
With exception to those smaller films, the Montana Film Office often attracts and helps companies that specialize in documentaries or commercials.
They help with the incentives, but also provide anything from free office furniture, free scouting and free script breakdown. It's one of the reason why regional commercials for car companies like Ford keep coming back.
They lent a small hand to "Crimson Winter," allowing them to shoot an office scene at the Department of Commerce state office.
Aig believes the state will continue to cater to the smaller projects until something changes in the model of films being made.
"It will really take one kind of break-out movie that will show that you can make a hit here," he said.
Marble looks at his industry as a filmmaker's market.
With digital technology giving the world the ability to make the movies cheap - independent film fans might remember how Kevin Smith had to make his first movie "Clerks" in black and white to save on cost - just about anyone can shoot an independent film.
That's why there are expected to be about 3,200 entries to Sundance Film Festival, where about 120 will be picked, Marble said. He's excited by the competitive nature of filming. Knowing that there are so many others making movies the way his group has pushed them to focus even more on production value.
If they can prove theirs is more than just kids speaking lines in front of a camera, there's a chance they will be picked up by a distributor, whether it's for theaters, DVDs or just online, where Netflix and Amazon can help them turn a profit.
"It doesn't change anything, because if you make a good film, you make a good film and people are going to watch it," he said. "You're either going to make a quality product that everyone's going to like, or it's going to suck and nobody watches it."