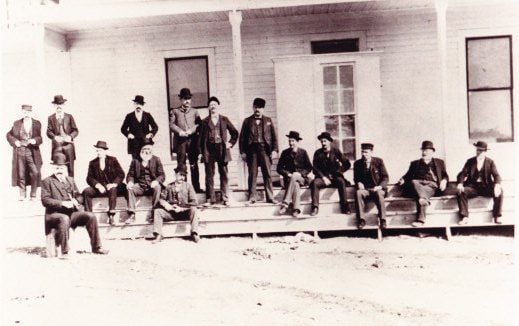 If it were possible to go back in time I wouldn't be confident enough to try to change history, but I'd sure try to do a better job of recording it.
You may recognize the accompanying photo. It has been around for years, and is one of the most persistent hoaxes in Montana history. I was given a copy in 1990, and at the bottom were the purported names of the individuals in the picture: Wyatt and Morgan Earp, Judge Roy Bean, the Sundance Kid, Theodore Roosevelt and others -- several of them misspelled. Quite a gathering, except it wasn't true.
On the back the sender had written: "Copyright 1990, All Rights Reserved," in the hopes of reproducing and selling copies of his amazing discovery.
I figured it would be easy to expose the fake. Although it was obviously not the assemblage of famous or notorious characters in the caption, it was a real photo of a group of men on the porch of Doctor A. J. Hunter's Hot Springs Hotel, in Gallatin County.
That photo was dated 1883. Evidently over the years as unwelcome facts eliminated some of the characters, other names and dates were substituted. Ben Greenough was substituted for Alan Pinkerton, founder of the Pinkerton Detective Agency, but Greenough would have been 13 and didn't arrive in Montana until 1886. Butch Cassidy would have been 16. One version of the photo identifies a figure as the Sundance Kid while another identifies him as Bat Masterson.
Should I go on, or are you convinced yet? I wrote to a Theodore Roosevelt historic site in New York. They didn't positively say he couldn't have been at the hot springs, but noted that he did not move West until 1884. He did visit North Dakota for three weeks in September, 1883, coming directly from New York and returning directly there. Also, the photo identifies him as "Teddy Roosevelt," but he wasn't called that until the 1890s, so the caption would have been written well after the event.
I also contacted the Judge Roy Bean Visitor Center in Langtry, Texas. The manager replied that they had no information concerning the judge's whereabouts in 1883. All the records indicated that he probably did not leave Texas during that year and it was extremely doubtful that he could have been the man in the photo. Perhaps to make up for the loss of Judge Bean, someone had substituted Texas John Slaughter.
The amazing -- and frustrating -- discovery I made was that no matter how many inconsistencies I found, no matter how many figures had to be eliminated by being absent, too young or (even more convincingly) dead, people kept defending the photo and finding excuses. For whatever reason, they really wanted to believe it!
"Maybe the date is just wrong," they'd say. "Maybe the names got mixed up." "Maybe that's not Morgan Earp, but that doesn't mean it's not Teddy Roosevelt." "Maybe you can't prove Roosevelt and Bean were there, but you can't prove they weren't."
Other researchers have worked on the same photo, but every few years it rises from the mists of time, like a zombie, and the discrediting has to begin again.
Perhaps you are wondering why I didn't provide the captions? Every time I've considered doing this story I've chickened out, because I didn't want to start another round of "Maybes."
After all, it may be my fault: In February, 1990, I got a lead. I called a man in Sugar City, Idaho, who told me that he'd learned of the photo from a woman in her late 80s who brought it to the place where he works. Her tale was that her son acquired it from a man who got it around 1925. This man, Jack Teaghman, bought several resort properties in Montana. The photo was in a resort. Teaghman paid someone $100 to come up with some colorful names. Teaghman had since died.
My contact was going to call me after checking on the story with a woman in Pocatello who he believed owned the original.
Why is it my fault? He didn't call and I didn't follow up. Twenty-six years have passed. I found the notes I took during our phone call recently. But it is just possible that all is not lost. I'll call the number on that old note. He may still be there. He may have the whole story.
Lyndel Meikle lives in the Deer Lodge area.