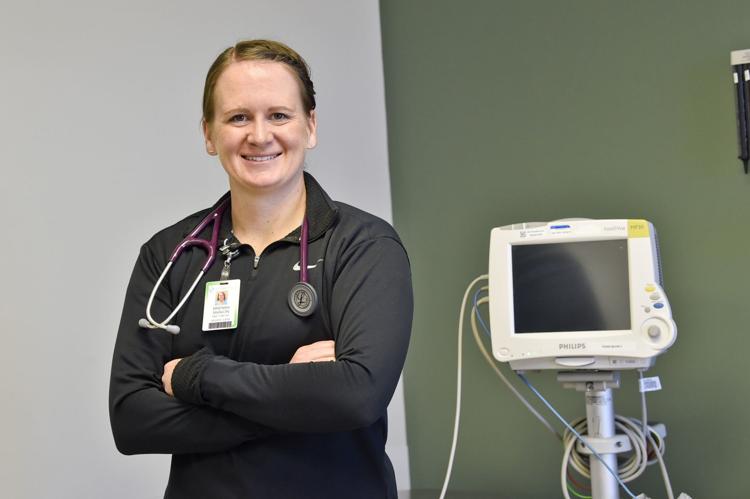 For the past decade, Brenna Scofield has been working in and around the high-pressure emergency room at St. Peter's Health. So when faced with a coding patient or a frightened mother and child, she exudes a contagious confidence that calms the room.
A Butte native, Scofield graduated from Carroll College in 2009 and started work at St. Peter's Health the same year. She immediately started in the emergency room, where she has experienced all sorts of madness at irregular hours of the day.
In 2016, she began providing care as a nurse practitioner in both the ER and the urgent care clinic. 
"The ER is different from the clinic," Scofield said. "Urgent care has opening and closing hours."
Scofield said her love for the ER is what has kept her going to work each day "You wouldn't do this stuff if you didn't love it," Scofield said. 
"There's a high volume of very sick patients, a lot of trauma and death," Scofield said. "And you have to leave that at work and not let it affect you on a day-to-day basis."
"I've seen it all, honestly," Scofield said. "I've been involved in saving several people's lives, I've seen several people code in front of me, given CPR, bedside care, diagnosed several cases of cancer."
Like every ER nurse, Scofield sees children with everything from cuts and scrapes to major health crises, but she strives to make sure they leave better than they arrived. "That's the most impactful," Scofield said.
Working in the ER also means Scofield has come into contact with a significant cross-section of Helena's population.
"People stop me at the grocery store and give me updates," Scofield said. "That's just what it's like being someone providing medicine in a small community like this."
"It always makes you feel good."