4 Ways to Keep Aquatic Invasive Species from Spreading in Montana in 2023
Provided by Montana Fish, Wildlife & Parks
Montana is blessed with many gorgeous waterways perfect for fishing, boating and swimming. But if we're not careful, these activities could cause aquatic invasive species (AIS) to spread to our lakes and rivers and take over.
AIS are animals, plants and pathogens that spread to areas where they don't naturally occur, causing environmental and economic harm, explains Zach Crete of the Aquatic Invasive Species team at Montana Fish, Wildlife & Parks. These species are often transported by boats or fishing gear, so it's especially important for anglers and boaters to thoroughly clean all equipment.
Everything west of Montana's Continental Divide is in the Columbia River Basin, which is the last major watershed free of invasive mussels in the U.S., so we must do our part to keep invasive species from spreading. Here are four ways to do that.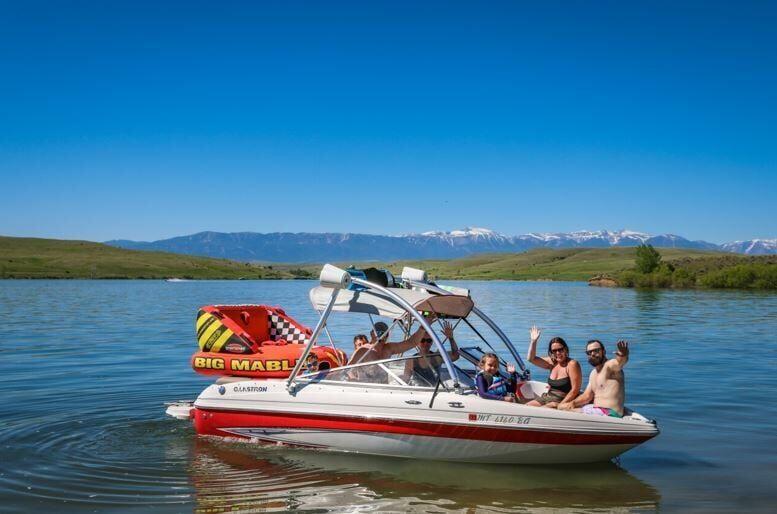 Education is a huge part of the effort to keep invasive species from spreading. A lot of people don't know about this problem, so it's important to get the word out and encourage others to make sure they're doing their part.
People simply may not understand how drastic the effects of invasive species – especially mussels – could be. First, they would have a huge impact on farmers by blocking water pipes and damaging pumps and irrigation systems. Invasive mussels also negatively impact hydropower plants because they attach themselves to internal systems that generate electricity in dams. Dam operators in affected areas have spent millions of dollars to clean mussel shells off structures, which ultimately leads to increased power costs.
Invasive species also have a huge impact on biodiversity by disrupting the food chain, displacing native critters and increasing algae bloom. Oh, and they could even affect property values. If you own property on a waterway that becomes invaded by mussels, the property becomes less desirable.
2. Always Stop at Inspection Stations
There are a number of inspection stations across the state, and Montana law requires everyone transporting watercraft to stop at any open station they encounter, even if they are not launching their watercraft in Montana. This includes motorized watercraft, rafts, drift boats, canoes, kayaks, personal pontoons, sailboats and small inflatable watercrafts. Many people don't realize that recreation equipment like stand-up paddleboards need to be inspected, too!
If you have a wake boat or a ballast boat, those are especially difficult to clean because they hold water, so be aware that your inspection will take a little longer.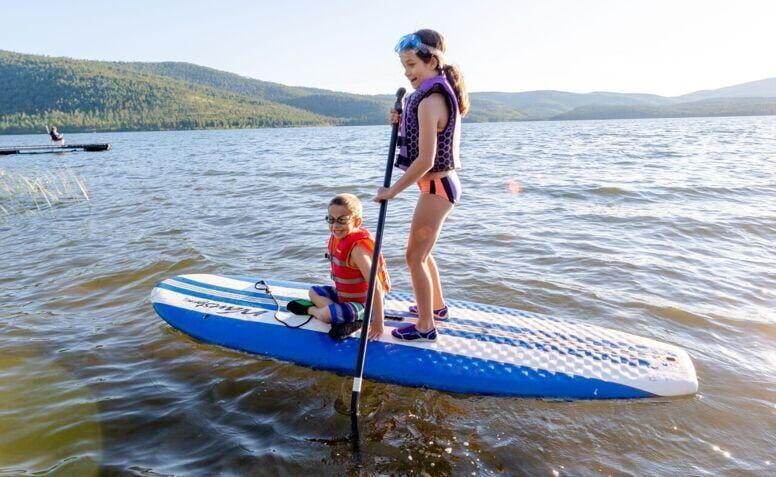 3. Remember: Clean, Drain, Dry
Anything that touches the water has the potential to spread invasive species – including your sandals, paddles, anchor lines or even your kids' water toys. That's why it's important to clean, drain and dry everything.
First, completely remove all mud and vegetation. Second, drain all water from your boat or anything else that touched the water. Third, dry everything thoroughly – because aquatic invaders can only survive in a wet environment.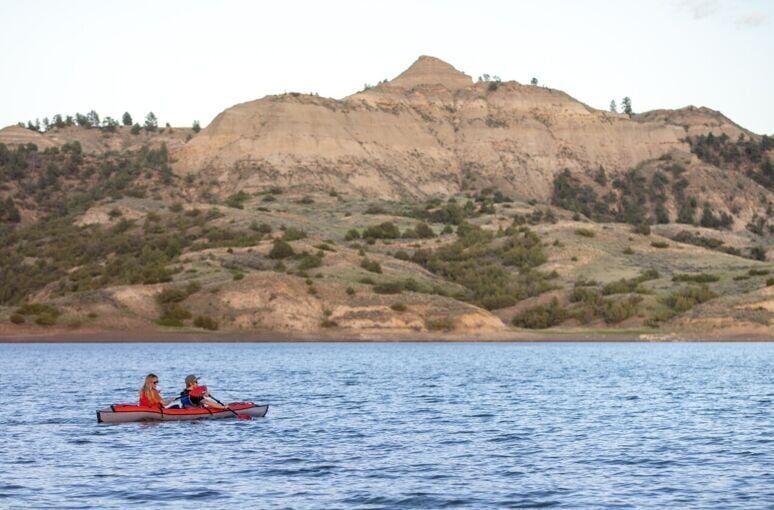 4. If You See Something, Say Something!
Always monitor your own property, and when you are out recreating on the water keep an eye out for anything that looks unusual. If you see a critter or plant that you suspect could be an invasive species, report it to Montana Fish, Wildlife & Parks.
"We do rely on folks to report things if they see something that doesn't look right or looks different from before," Crete says. "We've had people find snails, bring them in and found out they were invasive."
For more information about the Montana Fish, Wildlife & Parks Aquatic Invasive Species Program, visit FWP.MT.GOV/ais.com or call 406-444-2440.
Always Remember to Clean, Drain, and Dry
When wading into new situations always remember to clean, drain and dry. Aquatic Invasive species can harm habitats and important infrastructure within our waterways, resulting in poor conditions for recreational fishing, as well as leading to harmful impacts on the economy and even human health. Though most people associate boats with the transportation of aquatic invasive species, wade anglers also need to ensure that these invasive plants, animals and pathogens are not catching a ride on their gear. Following the simple steps of clean, drain and dry is the best way to prevent further spread in our incredible Montana waters.
Clean – Make sure to brush off all your gear, waders and boots when still at the water. Clear them of any mud, debris and plant life material. Remember to also check any grooves, cracks and even the inside of your waders and boots. If you have any bait to discard, throw it away in the trash, never empty it in the water or onto the shore.
Drain – Check to make sure there is no standing water in your gear. Also never transport water, fish, animals or plants from one water to another.
Dry – Make sure all equipment is dry to the touch after exiting the water, especially if traveling to multiple locations in a trip. If possible, use different waders for different bodies of water.
For more information on clean, drain and dry and other helpful tips on how to prevent the spread of aquatic invasive species please visit: https://fwp.mt.gov/ais
---
10 Must Do's After Boating or Fishing in Montana in 2023
If you're transporting your fish home to eat it, put it on ice right away so it will taste better and last longer. Plus, it's illegal to transport standing water in boats, so you'll need to drain your live well and promptly store your fish on ice.
Move quickly to be courteous to other boaters and anglers. Back your trailer down, load your boat and then move out of the way. Always check the boat and trailer for weeds and mud to ensure you aren't transporting any invasive mussels or other species.
3. Caught A Big One? Get It Certified Right Away
If you think you've caught a record-breaking fish, put it on ice and go to a grocery or hardware store to have it weighed. Then go to the FWP office to fill out the record form. (But remember: Never transport live fish from one waterbody to another.)
4. Get Inspected – and Clean, Drain and Dry
If you approach a watercraft inspection station, you must stop – and if your watercraft is already clean, drained and dry when you pull into the station, your inspection will be much quicker. Your watercraft must be inspected if you're coming into Montana from out of state, even if you're not launching in Montana. Montana Fish, Wildlife & Parks offers an interactive map to find an inspection station near you.
Replace your hooks, lures, bobbers and sinkers, and clean your reel and fishing line. If you do this right away and replace anything you need, your next trip will be much easier.
Make sure your coupler is working properly, and check everything from your lights and tires to your safety chains for rust or damage.
7. Clean Your Waders and Boots
Tiny invasive species can hide in your gear, particularly felt waders. Use a scrub brush and thoroughly clean and dry everything you wore. The Invasive Species Action Network has boot cleaning stations all around the state.
Never leave any garbage behind – especially fishing line that can harm wildlife. You can find monofilament recycle tubes at many fishing access sites.
9. Dispose of Live Bait Properly
Dispose of unwanted bait, worms and fish parts in the trash. Never dump live bait into the water, because you could introduce invasive species that will harm native populations.
If you access fishing or boating sites through private land, be sure to thank the owners. Pick up trash, leave gates as you found them and drive on the road. Always remember to be courteous!
For more information about the Montana Fish, Wildlife & Parks Aquatic Invasive Species Program, visit fwp.mt.gov/ais or call 406-444-2440.
---
What out-of-state residents need to know about boating in Montana in 2023
Aquatic invasive species could have a catastrophic impact on Montana
Aquatic invasive species (AIS) are plants and animals that are not native to Montana and whose introduction causes harm to the state's economy, environment or human health. AIS can flourish in new locations when there are no natural predators or environmental conditions to restrain them. This can cause them to reproduce rapidly and out-compete native species for food, water and space. This would have negative impacts on Montana waterways, native plant and wildlife species, boating and fishing opportunities, irrigation and ag production, hydropower and water infrastructure systems.
Watercraft and water-based equipment like fishing gear are the most common vector for the transport of AIS and are the focus of prevention efforts. Many AIS species have invaded other waters in the U.S. and Canada that we want to keep out of our waters. Some examples include invasive quagga and zebra mussels, spiny water flea and invasive carp.
What nonresident boaters and anglers can do to help protect Montana waters
Nonresident boaters can do their part by arriving clean in Montana! Make sure your boat is free of mud, water, plants and animals before you travel, as a plant fragment can start a new infestation of invasive plants. For example, New Zealand mud snails reproduce by cloning, and some AIS are microscopic and can float unseen in bilge water (like mussel larvae). Zebra and quagga mussels are particularly bad because they can attach to anything in the water, like boat hulls. They can survive out of water for up to 30 days. Always remember to clean and drain your boat and fishing gear at the end of the day. Allow time to dry before your next outing.
Everyone bringing watercraft in, or through, Montana must stop at ALL watercraft inspection stations (even if just passing through Montana and not launching). Watercraft inspection stations are the first line of defense to protect Montana waters from AIS and ensure watercraft are not transporting AIS into the state.
Your help is needed during the inspection. Here's what you can expect:
Inspectors check hull and trailer, internal compartments, bilges, live wells, anchor and line.
Make sure you've pulled the drain plug to make sure water is drained.
Inspectors will ask you to raise and lower motor and operate ballast pumps to ensure they're drained.
If inspectors need to clean your vessel with hot water, please note that they do not use chemicals. Hot water can kill AIS plants and animals
Stop at every station you encounter, allow time during your travels. After the first inspection, other stops should be brief, but you must stop.
Failing to stop at an AIS inspection station can result in a fine of up to $500.
Anglers should consistently clean their fishing gear. AIS such as spiny water fleas can cling to fishing line, fowling the line, and New Zealand mudsnail, a tiny snail that clones, can hide in mud on the bottom of wader boots.
Requirements for nonresidents bringing watercraft (motorized and nonmotorized) into Montana
Montana law requires an inspection for any watercraft coming into the state. For boaters traveling from east to west, Montana could be the first place you encounter a roadside inspection station.
Nonresident boaters will need to purchase the Vessel AIS Prevention Pass if you plan to launch your vessel in Montana. Here are a few details on the AIS Prevention Pass:
$30 for any motorized boat (including trolling motor)
$10 for non-motorized boats (canoe, kayak, raft, drift boat, fishing pontoon boats, etc.)
Pass is valid for the year, until Dec. 31.
Purchase at any Montana Fish, Wildlife & Parks office or online at fwp.mt.gov/ais
Pass can be printed or save a picture on your cell phone (there is no decal)
Always remember to travel clean, drained and dry! Enjoy Montana and help preserve and protect the places where you fish and boat!