GREAT FALLS – Swimmers came ready to swim fast Friday afternoon at the state swim meet as state, school and personal records fell.
Butte sophomore Catherine Russo got things started by breaking the record in the girls 50 free and followed it up in her very next race with the girls 100 butterfly record as well.
"I wasn't really expecting it in prelims," said Russo. "I was really focusing on it for finals, that was kind of my main expectation, but I finished on my 50 free and I looked up at the wall and I kind of freaked out for a second. I was so excited, it was just crazy."
She swam 23.05 seconds in the 50 free to break Jenna Marsh's 2013 record of 23.52 and 55.69 in the 100 butterfly to break Kate Zimmer's 56.07 record from 2015.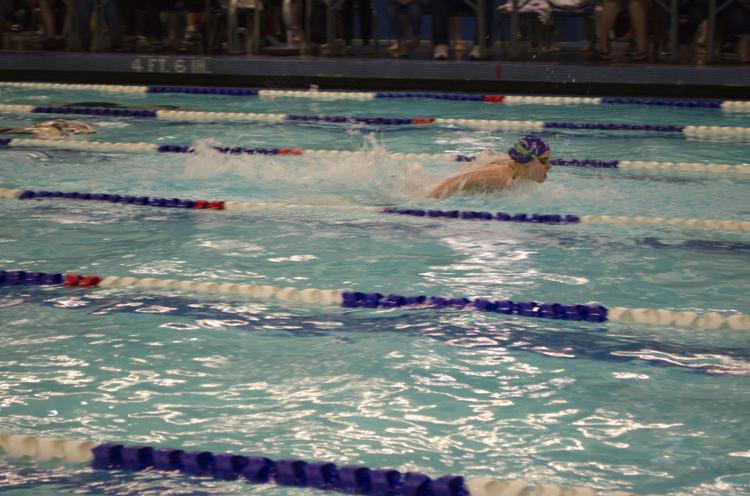 Russo's 50 free swim jump started a rash of record-breaking performances. She was followed right after in the boys 50 free by Kalispell Flathead senior Jamie Bouda.
Bouda took down the record by swimming 20.67. The previous record was from Pierce Oja's 21.29 in 2015.
"I was hoping to get the state record in the 50, which I did, and it's awesome," said Bouda. "We've put in at least a year's work for a 20 second race so we knew it was in there. I just had to get in the zone."
He swam under the record multiple times this season, but state records can only be broken at the state meet.
"It feels good to finally officially have it and have that pressure off," said Bouda. "I knew I could do it, but there's so many precise stipulations to getting the actual record and I'm just glad to have it done day one so I can go into tomorrow with a fresh mind and only just better myself from there."
The four-time defending state champion Missoula Hellgate Knights had another strong performance placing multiple swimmers into Saturday's finals, but highlighted by both the boys and girls 200 free relays broke the state records. The girls swam 1:39.14 to take down Flathead's 2004 record of 1:39.68.
The boys lowered their own record they set last year with a time of 1:26.75.
And Knights junior Katharine Berkoff started the record-breaking pace for the Knights with a new state record in the girls 100 free. She swam 50.79 to break Jenna Marsh's previous record of 51.45 from 2011.
But coach Helen Houlihan was quick to point out that it wasn't just all about state records for the Knights and the Missoula schools.
"As a whole we saw outstanding swims from every school. We saw wonderful relay splits, we saw kids that stepped up and they gave us everything they had in the tank," Houlihan said. "I think we probably only had like three that weren't personal best swims.
"In our program, swimming is a no-cut sport. So there are some kids that start this program that can't put their faces in the water and the first time they swim a 100 free, they swim a 1:30 and the same guy went 58 (seconds) today so it's like 'oh my gosh, this is so awesome.'"
First year Bozeman head coach Siobhan Gilmartin agreed.
"We had best times across the board. Every single swimmer dropped time in every single race," Gilmartin said after. "Our relays swam impeccably. I'm just so proud."
One of the most memorable performances came from Bozeman's Nathan Peters in the 100 breastroke. He had the crowd and his teammates on their feet screaming as he charged down the final stretch before touching the wall and a look of shock broke across his face as he realized he had broken the Hawks school record.
"He has been trying for that record last year and this year and he stood up before his race and said, 'I'm going to go break the record,'" said Gilmartin. "Sure enough, he went and dropped two seconds and broke the record."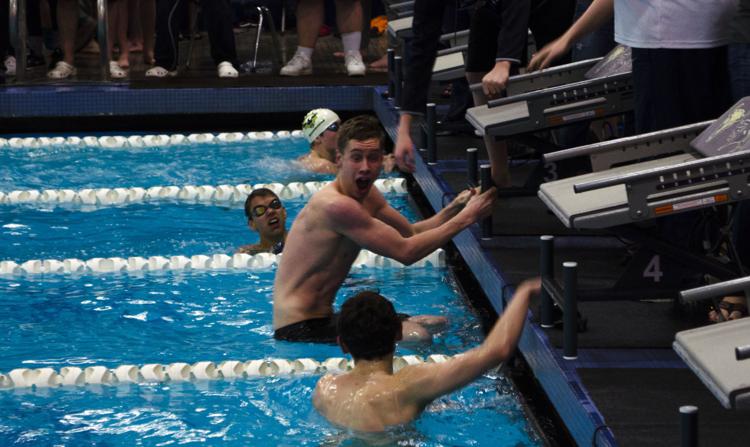 Tomorrow, the Knights will try to add a fifth straight title to their run of boys and girls championships and Billings Central boys and Whitefish girls will see if they can defend their Class A titles.
And after such a fast start to the meet, it's a matter of whether or not swimmers can continue to lower their marks even further.