GREAT FALLS – As the Hellgate Knights chanted "Fill the jug! Fill the jug!" from the side of the pool, Missoula swim coach Helen Houlihan did a belly flop off the starting blocks.
It was the culmination of a five-year sweep of both the boys and girls state championships for the Knights, and they showed no signs of slowing down as both teams won their trophies by more than 100 points. The Hellgate boys won with 304 points and girls won with 359 points. Bozeman earned runner-up finishes in both as well, while the Sentinel girls took third and the Flathead boys earned third by one point over Helena.
"It's just such a good way to end a four-year streak," said senior Matthew Fritz, who earned two state titles in the 100 backstroke (52.92 seconds) and 200 IM (1:56.63). "Just being able to jump in that pool and do our little jug ritual, which is super fun, watching the coaches belly flop off of the start, and all of it together is just amazing. It's just one of those things and feelings you can't ever top."
To put it in perspective, only Bozeman has won more AA titles; the girls earned seven straight from 1996-2002, while the boys earned five straight from 2003-2006. But none have been able to sustain a sweep on both sides for so long.
"This meet is different because it's more exciting than any other high school meet because we just have our whole team backing us and everyone is just behind us and we're behind them," said senior Darragh Mahns who won the 200 free (1:42.57). "It's just a really good atmosphere for racing fast and setting up some good times and some good emotions."
In Class A, the Billings Central Rams swept both the team titles over runner-up Whitefish. The boys earned their second-consecutive Class A title with 53 points, while the girls won with 65.
The highlight was in the 500 free where junior Jack Leuthold broke one of the oldest records still on the books when he swam 4:39.90 to break David Cromwell's mark from 2000. He was followed by Hellgate's Sawyer Keyes (4:41.44) and Billings Senior's Pete Thompson (4:44.54).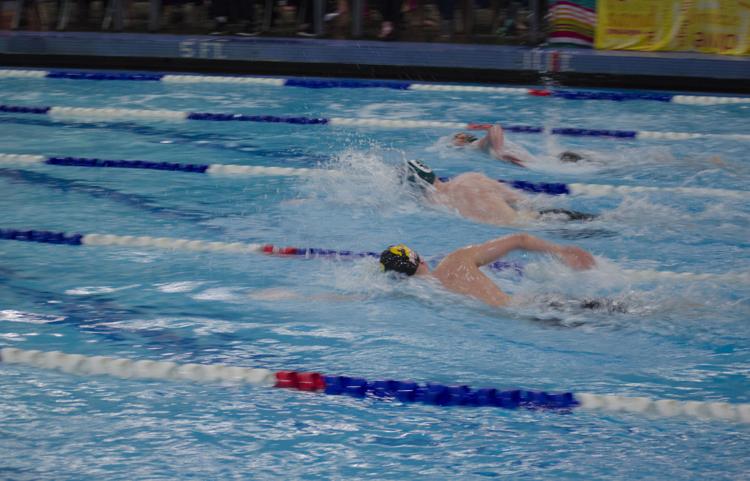 "Going up to it there was three of us: me, Sawyer and Peter, and we all were going to go super fast, I just knew that, but that last 100 was just everything I had and it worked out pretty well," said Leuthold.
"I actually didn't even know there was a record, but my teammates told me and that was the cherry on top."
Butte's Catherine Russo again proved outstanding breaking records in both the 50 free (22.76) and 100 butterfly (54.15) in back-to-back races in spite of a case of strep throat she found out she had the day before.
As she pushed back off the wall to look up at the clock, her hands came up to her mouth in amazement and she reached over the lane line to hug runner-up Julia Peterson from Billings Central.
"It's a pretty amazing feeling. I achieved the goals that I set for myself," said Russo after. "It was an amazing feeling to have all that hard work pay off."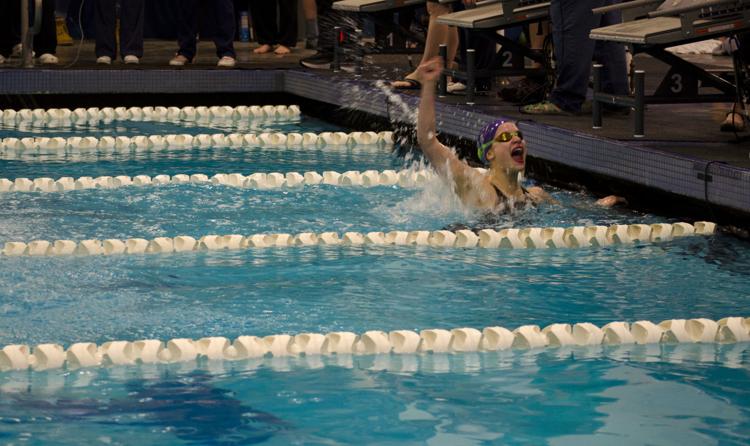 Similarly, Hellgate junior Katharine Berkoff, who had already set the girls 100 free yesterday, lowered it to 50.01, before also breaking the 100 backstroke with a 52.80.
"I didn't even know I got the state record until I finished in both of them," said Berkoff. "So it was a surprise."
"I think after winning junior nationals, my confidence just went so up," said Berkoff. "It's just fun to come back and have all the support and have all my teammates winning too and it's really fun to see them do great things."
Her teammate, Mari Aoki, also took down the girls 200 IM record that she set last year by swimming 2:05.83.
And as his favorite pump-up song "Welcome to the Jungle," played as the walk-up music for the boys 50 free, a huge smile spread across Flathead's Jamie Bouda's face. That grin got even bigger after the race when he swam 20.48 to lower the state record he had set the day before.
The Knights, too, lowered records they had set the day prior with swims of 1:26.52 in the boys 200 free relay and 1:38.54 in the girls 200 free relay.
And for the record 443 swimmers who participated over the last two days, the general theme of the meet was not only state records, but personal bests and school records falling as performances heated up the pool at the Great Falls Fieldhouse in spite of low temperatures outside.
"I think more people are starting to catch onto how hard it is to win a state championship. It just shows how special the Hellgate group is right now and that type of streak is hard to come by and you have to take advantage of it while it's there because it's fleeting," said Great Falls coach Ed McNamee. "It's really difficult to make a run like that."