COMMENTARY
COLLINGWOOD: Carroll SID Wolcott a big part of school's success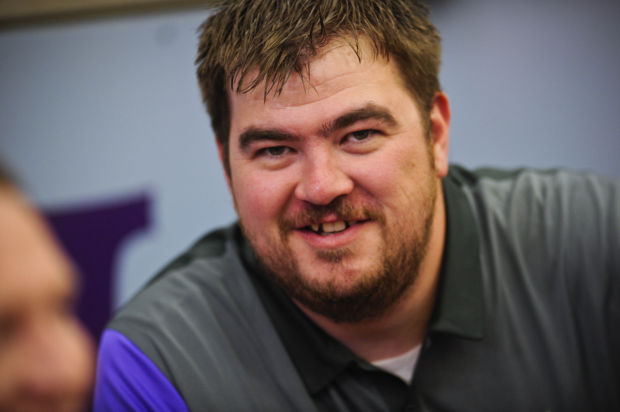 To Inland Northwest residents familiar with the Wolcott namesake, it evokes thoughts of the logging and forestry industries.
Between his sizable frame, facial foliage and ability to swiftly start a wood fire, Carroll sports information director Jerek Wolcott certainly has the aesthetics of some of his lumberjack relatives. 
The Libby native wears purple polo shirts in lieu of flannels, though, and hasn't cultivated calluses that suggest he's been swinging an ax into Ponderosa pines.
But if one's hands hardened as a product of content development, brand stimulus, media liaising and being the all-around athletic department good guy, he'd go through keyboards like cutting chains.
Versatility and congeniality are what separate Wolcott from most in his respective field. Big college. Little college. I've worked with them all in my various stops. He's been the best.
When Wolcott started at Carroll after being plucked from Idaho State University in September of 2014 -- he was an assistant SID at the Big Sky Conference school -- Carroll's athletics website was a pinch better than MSU-Northern's relic.
It was run-of-the-mill in a time when even the smallest college athletic programs in the country were improving their brands with posh sites akin to major universities. Photos, videos, written content, up-to-date statistics, rosters, profiles, social media followings -- you name it, schools with half the profile of Carroll were doing it.
Wolcott was hired in September of 2014.
And you thought Mike Van Diest and Carson Cunningham's program turnarounds at the start of their Carroll coaching tenures were fast.
Wolcott's content, forwarded to every media outlet in the region, has helped elevate the profile of an athletic department that was already in the state's consciousness. But when a newspaper or TV station is able to easily slap Jerek's releases on their sites -- anything from a game recap, letter of intent signing to a photo gallery or occasional video -- without performing surgery on them, the news has a way of getting out quicker.
But a lot of SIDs can crank out content. Not all of them wear a smile and exhibit a genuine care for the school's athletic programs while doing so.
Wolcott wants to see each kid and coach succeed.
Media-wise, he develops positive relationships with folks ranging from grumpy print journalists, wet-behind-the-ears TV reporters to local radio personalities.
Wolcott doles out story ideas and guidance to the aforementioned mediums and is quick to help out others schools' SIDs. He's also willing to be an open-eared friend, which isn't always easy in his position. He's in the business of public relations. I'm in the business of news. Sometimes those things don't work in concert.
Wolcott was a mediator at times when my reporting didn't sit well with some coaches and administrators. This happens, and Wolcott's approach -- sticking up for his school while also understanding the nature of my job -- was instrumental in smoothing out those situations.
If not for his assistant SID gigs at Montana -- where he also he earned his degree -- and Idaho State, he would have likely been in way over his head, giving even more validation to Carroll's quality hire.
He's a quality, man, though, which typically translates to a quality employee.
Most young professionals in his post are single, giving them ample time to pursue the above-and-beyond measures to do what he has done at Carroll. But the 31-year-old Wolcott is about nine years into a loving marriage, and has an adorable, 2-year-old son.
Oh, and he's also a very active member of his church and, in his free time,  a Boy Scout leader.
But, alas, he finds the time to do what he does.
This isn't just my glowing endorsement of Wolcott -- did I mention he makes Costco runs to get snacks for Carroll employees? -- because I know many other media members can echo these sentiments.
But with the 2015-16 sports year concluding on Saturday, I speak for all Montana media members when I say this.