In the event of a safety threat, a Helena school would be able to lock all its doors at the push of a button.
And, if there were a threat of danger to a number of schools, the district superintendent would be able to lock down all the schools at once and instantly communicate with them, law enforcement and parents.
That's one major security improvement Helena Public Schools would make if local voters approve a proposed $63 million bond May 2.
The bond would also build three new K-5 schools at the sites of Jim Darcy and Central school campuses and on or in the near vicinity of Bryant School. It will also make technology and security upgrades at all the K-8 schools, which includes the two middle schools.
"From day one, safety was on our mind," Superintendent Jack Copps told a crowd of about 50 at Helena Middle School at a pre-bond meeting Monday night. "We have a great need to address safety concerns."
Copps estimates a minimum of $8 million of the bond would be spent on technology and security.
While this bond covers work at all the K-5 schools and middle schools, the district will use other funding to implement the same security improvements at the high schools, said facilities administrator Kalli Kind.
People have been asking the past few days if the bond will be affected by a lawsuit filed last week by Alan and Nancy Nicholson seeking an injunction to halt demolition of Central School, Copps said.
The bond vote is going ahead as planned.
"It has no impact on this bond issue," he said. "As we move forward, new schools at Jim Darcy and Bryant will be built. ... Central may not be the first school built," as initially planned. "We just have a delay at Central."
The security and technology improvements will also go forward, he said.
Among these changes is a new keyless entry system using faculty badges to access school buildings instead of keys.
Installing a new phone system throughout the school system is a high priority.
For anyone who has been in the middle of talking to a teacher and had the phone die, they can appreciate the need for this upgrade.
Electronic reader boards for instant messaging will also be added in all the classrooms.
These were just a few of the security and technology high priorities outlined at the pre-bond meeting with Kind, CWG principal architect Tony Perpignano and technology administrator Pat Boles.
Other improvements include assessing the security issues at each elementary school and either moving the school's main office or redesigning the entryway to control building access, and also installing video cameras.
Safety priorities would be established for each school, said Perpignano.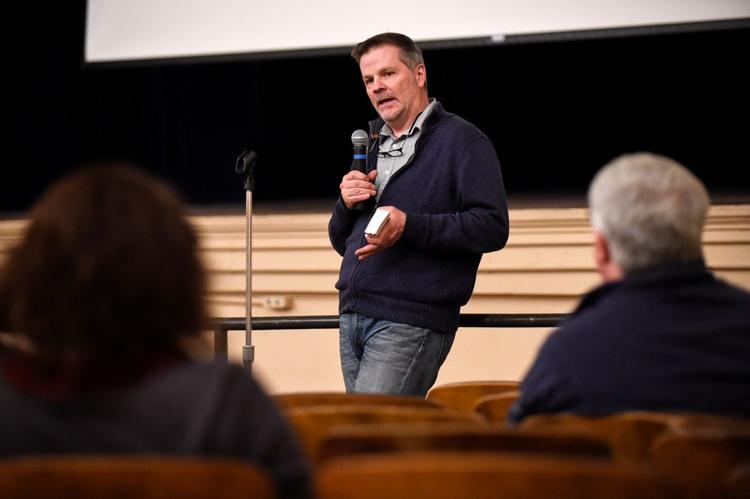 "We have to make sure campuses are secure," said Copps. In some areas, strangers are crossing school campuses. Schools may have to consider adding cameras to monitor school grounds.
On the technology front, a top priority is installing interactive classroom audio visual instructional technology so classrooms can connect with teaching resources from NASA to classrooms across the country or cultures around the world.
The system includes a touchscreen display that involves the entire classroom so they can all participate in video conferencing, said Boles. The equipment is a modular system that can be moved from classroom to classroom.
Any of the technology or security system improvements could be moved at a time a school is either renovated or replaced with a new building, said Boles and Kind.
The district wants this security and technology work done by the start of the 2019 school year, said Perpignano.
Once the bond passes, said Kind, all four architects the district has hired for pre-bond work would move forward with timelines about how they will proceed.
All the architects will be sharing this information, and updates will be posted on the school district website at helenaschools.org.
Committees representing each school will act as advisory groups, said Copps. He urged those interested to submit their name, address, email and the school they're connected to.
Three more prebond meetings with architects are set for this week.
On Tuesday, April 4, from 5:30 to 7:30 p.m., DSA holds a community meeting at Jim Darcy School gym, 900 Lincoln Road W.
Mosaic Architecture holds a Bryant School neighborhood meeting from 5:30 to 7:30 p.m. Wednesday, April 5, at the Helena High School cafeteria, 1300 Billings Ave.
Central School neighborhood meets with architects from SMA from 5:30 to 7:30 p.m. Thursday, April 6, at First Baptist Church, 201 8th Ave.
For information about the bond and updates about architect meetings and timelines, visit helenaschools.org.
If you have questions, email Kalli Kind at ajensen@helenaschools.org.