Veterans from around the state expressed frustration over the Veterans Choice program, meant to increase access to health care, during a listening session in Helena on Monday night.
Nearly 50 veterans came to American Legion Post No. 2 to talk about their experiences with Veterans Affairs Department health care. The town hall is one of about a dozen the Legion will hold around the country this year to gather feedback to share with state congressional delegations and VA officials.
"That Choice is broke, broke, broke," said veteran Tom Johnson, who said he was employed by the VA for more than three decades. "The VA has gone downhill drastically in the last eight years."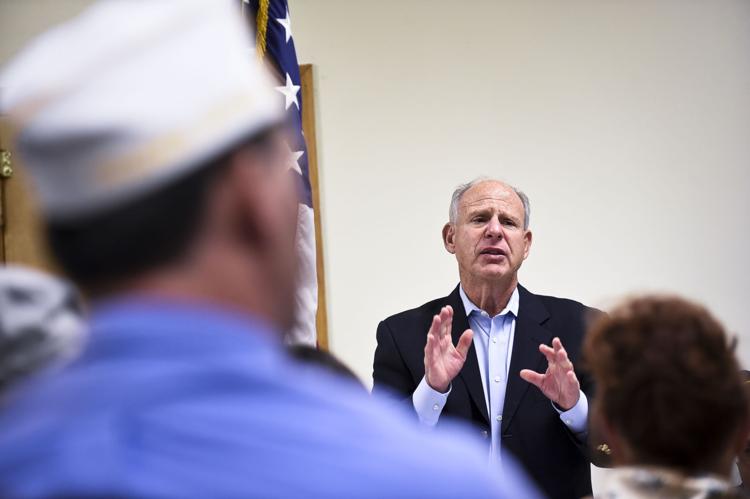 Johnson, like many others who spoke, had conflicting views about Fort Harrison, the VA's medical center in Helena. Johnson said while he has nothing but accolades and applause for most of the care he's received, he also has concerns about the direction the VA is going.
Johnson said he spends time at the VA at least once a month, drinking coffee with the staff and visiting with patients.
"Overall, for the most part those patients have nothing but praise for the hospital out there, the medical care they're receiving. But on the downside, trying to get in for appointments, scheduling, administration stuff … it isn't working."
Karen Semple said her husband, who is 100 percent disabled, had a serious accident recently and went to the VA, where several of his doctors were veterans.
"It made all the difference in the world how he was treated," she said. "That is a fantastic connection you can't always get in the civilian world."
She said she was frustrated with the Choice program because it makes it less likely veterans will have fellow veterans as their doctors.
"That's what bothers me about this Choice stuff and getting funnelled to civilian doctors," she said. "This is really important to us to not get funnelled to the civilian world where people do not understand your mentality because you are a veteran. They're civilians. They're clueless."
Don Paul said the Choice program has been a "disaster." After having some problems with his throat, he was told he needed to see an ear, nose and throat doctor. He went through a maddening process to schedule an appointment and get an authorization, which at one point was canceled because his appointment was not scheduled quickly enough.
He was then told there was not a specialist in the program locally and he would need to travel to Salt Lake City, only to later meet one in his own neighborhood who said he participated in the Choice program.
"I ended up calling it the last Choice instead of the first Choice," he said.
Kelly Ackerman, a service officer with the Legion, said the Choice program has not worked as effectively in Montana as more populated areas.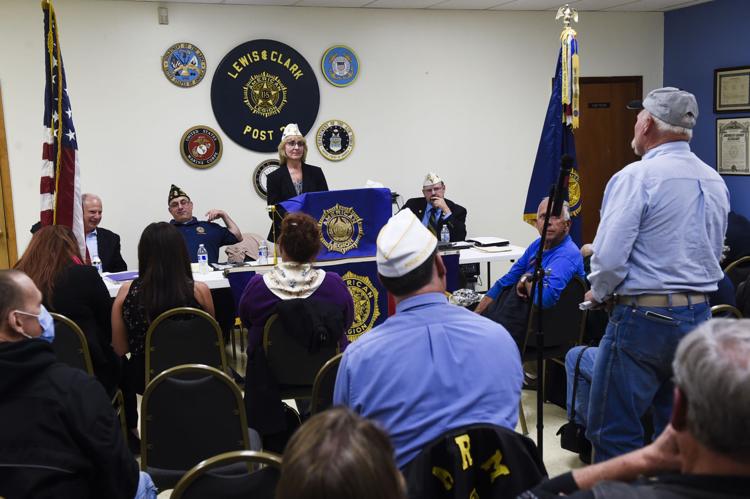 The Choice program was passed by Congress in 2014 in an effort to reduce wait times for veterans at VA facilities. Its goal was to allow veterans who live more than 40 miles away from the nearest VA clinic or who are unable to get appointments in a reasonable time frame to get treatment at a non-VA facility.
"It didn't work in a rural state," Ackerman said.
She told those gathered that Montana is a pilot site for an alternative to Choice, a program called Care. It stands for Coordinated Access, Rewarding Experience. Ackerman said the program puts scheduling, something many who spoke Monday were frustrated with, back in the hands of the VA.
Other frustrations veterans discussed included hassles with getting emergency care paid for at non-VA facilities.
James Heffernan, who told the crowd he's 80-some years old, went to a hospital out of state last May when he was experiencing chest pains and has struggled to get his claims processed.
He held several letters as he spoke, all with conflicting information from the VA about billing.
"It was convoluted, frustrating and confusing all the way around," Heffernan said.
Ackerman said network authorizations can get get really messy, a statement that got head nods from many in the crowd.
Steve Combes, from Kalispell, had a slew of appointments with the VA in town, including two on the day of the meeting. He said he recently had to wait 92 days to be reimbursed for his mileage to appointments.
"It didn't hurt me at all, but there are many veterans who have friends, neighbors, who have people that drive them over (from) Ekalaka, Plentywood and so forth. Why does it take so long?"