Melissa Romano, a Helena teacher who ran for state Superintendent of Public Instruction last year on the Democratic ticket, was named 2018 Montana Teacher of the Year on Monday. 
This is the last year the award is issued by The Montana Professional Teaching Foundation, a group organized by MEA-MFT, the state teachers union. The Office of Public Instruction, headed by Republican Elsie Arntzen who defeated Romano last fall, announced it would take over the program beginning next year. 
Romano is a decorated teacher; she received a Presidential Award for Excellence in Mathematics and Science Teaching from the National Science Foundation in 2014. Several teachers and education groups lauded her professionalism and work as a math coach during the superintendent's campaign.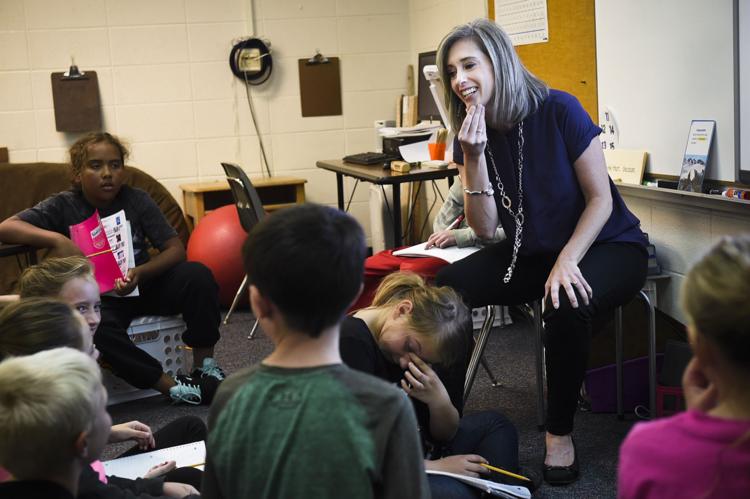 "She goes out of her way every day to contribute to her students and her colleagues to make her school a better place to teach and learn," said Kelly Elder, 2017's Teacher of the Year, in a press release sent out by MEA-MFT.
Romano has also begun sharing math lessons on a national platform, Better Lesson. She's also worked as a science Master Teacher and instructional coach for the company.
The teaching foundation highlighted her global emphasis in the classroom. 
"Students who experience other cultures and develop skills in a connected world are better prepared to be productive, kind, and world changers," she said in the release.
Arntzen congratulated Romano in an emailed release Tuesday, saying that she visited Four Georgians Elementary on Tuesday.
"I look forward to honoring my commitment to endorse the Montana Professional Teaching Foundation's 2018 Teacher of the Year," she said. "Melissa is a great educator and I thank her for her service to Montana students. I look forward to further elevating teacher excellence as the OPI begins administering the Teacher of the Year program moving forward."  
Neither release mentions Romano's superintendent run, or that MEA-MFT, backed by national unions, donated hundreds of thousands of dollars to Romano's campaign. They also don't mention that Romano is running for state senate. 
Nominees for Teacher of the Year filter up to the Montana Professional Teaching Foundation from locals, and a committee selects finalists for interviews. 
This year's selection committee included representatives from school organizations, fellow educators, parents and students, according to the release.
Other finalists are Judith Boyle, an elementary teacher at Divide School in Divide, and Judy Vincent, a first-grade teacher at Shields Valley Elementary School in Wilsall.
OPI announced it would take over the program in August. The move comes less than a year after a pair of Montana Teachers of the Year appeared in teachers' union-bought television spots stumping for Arntzen's Democrat opponent.
Most other state education departments across the country run their teacher of the year programs, which are sponsored by the national Council of Chief State School Officers. The move was well within Arntzen's authority and will take effect for the 2018-19 school year. But union officials who opposed Arntzen's candidacy were further rankled by the switch.
An OPI spokesman previously said that the ads last fall didn't play into the decision to move the program under OPI.