LINCOLN -- At the Mountain View Co-Op Gas Station, it seems like Lincoln Rural Fire Chief Zach Muse knows everyone who is browsing the candy, dip, soda and coffee options laid out in clean rows.
It should be easy to tell who Muse is. The elk-teeth necklace, polo shirt, jeans, boots and multi-metal bracelets along with the hat that says "CHIEF MUSE" on the back mark him as the fire chief pretty well.
Bob "Peppy" Ledoux told Muse he had seen a big, black, plastic culvert floating down the Blackfoot River earlier that morning.
"That makes me feel better. It probably just was lying on the bank somewhere and got moved," Muse said, getting back into the LRFD F-250 that's packed with any kind of gear you might think to need in an emergency.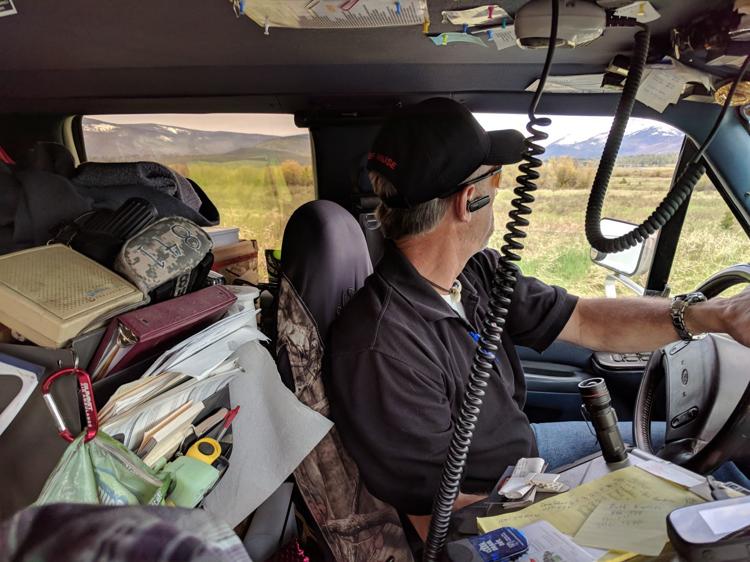 Muse has a can and a bottle of Pepsi with him and just got out of the gas station after buying a can of chew.
"I had to give up beer for the job of fire chief, so I have to drink a lot of Pepsi," Muse said, adding that the chew was also important. 
Muse has been Lincoln's fire chief for six years, but has lived here longer than that. His godfather lived here in the 1970s and Muse remembers spending "a whole lot of time up here."
The time he's spent in Lincoln shows as he drives through the town and explains that, just a few days ago, most of the area the truck is slowly moving through was covered in water.
Sandbags stand forlorn and wet in long rows near houses, and 30-plus pallets of unused bags sit warming in the sun near the baseball field.
"We've given out 10,000 sandbags," Muse said.
Great Falls and Helena businesses pitched in, donating sand and gravel along with some devices to help fill sandbags.
"The county brought us 12,000 sandbags," Muse said. He's been holding onto other sandbags for a while as well. "I've been hoarding them for years."
"We busted out over 7,500 bags in two days," Muse said.
Flooding in Lincoln was much worse last week, blowing out roads and overflowing seemingly every single small stream and creek near and around town. Lincoln had leapt into frenetic activity, high schoolers and adults alike coming to help fill as many sandbags as possible.
A man who identified himself only as Al rolled up in a Chevrolet S-10 and started chatting with Muse, who seems to know everyone in the area and waves at seemingly every single vehicle he sees driving. Al said he'd have to completely redo his yard to avoid flooding next year, and Muse said he should just seed it beforehand so he wouldn't have to worry about it next year.
Muse makes his way around the town, pointing out where the water had begun to overflow on Keep Cool Creek, how some culverts have been completely unable to take on the floodwaters, and where residents have had to sandbag around their houses.
Muse knows the area so well for another reason -- he works as a postman for the United States Postal Service. He has to take vacation from the Postal Service for his job at the fire department. Muse works, according to his calculations, 32 hours a week as a postman and 40-plus as fire chief most weeks, but even more during fire season. 
Muse drives on, checking on creeks and waving at neighbors on the way.
"This is worse than 2011," he said. "There's more low- to mid-elevation snow," which leads to small streams causing problems for "everybody."
And the Blackfoot hasn't even begun to peak. The Lanner Fork drainage clears a lot of snow from behind Stonewall Mountain, and there is at least 10 feet of snow deep in the back bowls, and that snow will come down into the Blackfoot sometime in June and will probably flood the River Park again.
Up on the way to the old town of Lincoln, Glory Hole sustained the most flooding damage. Muse said the old mine tailings pit has buried many unsavory items in past years.
The bottom of the Hole is completely blown out. The road that was once at the top has been replaced by a 20-foot-deep hole containing a jumble of trees, part of a fence and water. 
Muse was pragmatic as he made his way back to town.
"It'll be a whole lot of work to fix this," he said. "It'll be fun to put everything back and stow it away and transition back to fire season."