Authorities evacuated more homes near Lincoln and temporarily closed a stretch of Highway 200 east of town as flames from the Alice Creek fire once again came within a mile of the roadway Friday afternoon.
Though the road was reopened later that night, Lewis and Clark County Sheriff Leo Dutton said the mandatory evacuation orders involving 11 residences remain. A temporary shelter is being opened at Wolf Creek School.
Highway 200 was shut down from Highway 279 on the west side to Highway 287 on the east side for several hours. 
"Firefighters were able to keep this in check and now the highway is open again," Dutton said in a written announcement late Friday night. 
"For the driving public, please reduce your speed in this active fire area," he continued. "There are still fires trucks and fire fighters moving continually between their fire camp and the fire. We ask that you exercise caution and respect the equipment that is moving slower than you are. We thank you for your patience and understanding as we continue to respond to what Mother Nature has given us."
As authorities scurried to put the evacuation orders and roadblocks in place Friday afternoon, they were also preparing for what is expected to be a weekend filled with extreme fire activity. Storms including high winds and lightning are expected. 
The fire is moving east above Elk Meadows subdivision, which is in the evacuation area. The Landers Fork, Elk Trail Park and Alice Creek communities were under a pre-evacuation notice as of Friday evening. 
Lightning sparked the Alice Creek fire in July. It has been growing at varying degrees ever since. Another 1,000 acres burned Thursday. The wildfire currently stands at 23,427 acres and is about 16 miles northeast of Lincoln.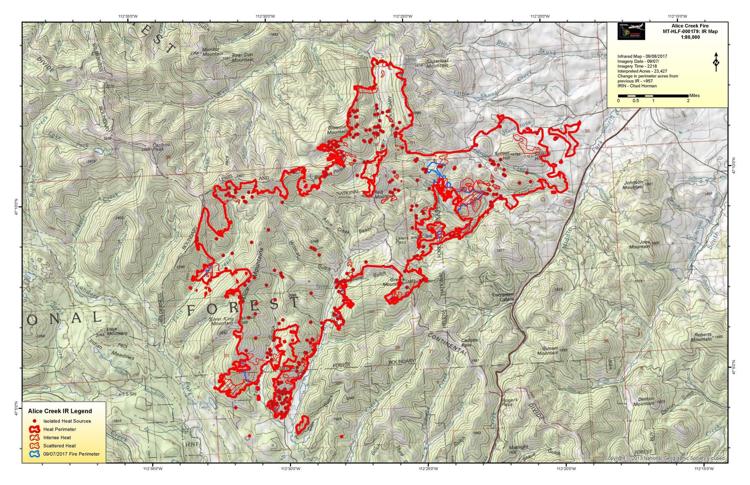 The fire growth on Friday is a result of having nearly no moisture in the air and high temperatures. It continues to spread in all directions. 
A Fire Weather Watch is in effect for Saturday afternoon and night for dry thunderstorms ahead of a dry cold front. Meteorologists anticipate this will affect the fire area late Saturday afternoon through Sunday morning.
A large forest area closure is in effect. This closure includes all roads, trails, and lands north of Highway 200 on the Lincoln Ranger District Boundary.
So far, air tankers have dropped 250,035 gallons of retardant on the fire. More than 250 personnel are battling the blaze. Crews are utilizing numerous engines and three helicopters during the ongoing efforts.  
Preparing for the worst
Meanwhile, authorities are preparing for worst-case scenarios regarding the Rice Ridge fire, which has already taken 122,843 acres since it sparked near Seeley Lake. That fire is burning roughly six miles away from Lincoln, and officials are discussing what to do if it continues to move toward town. 
"It's in our county," Dutton said. "It's here."
Officials worry the Rice Ridge fire will combine with the Park Creek fire, which was originally two separate blazes. The Park Creek fire has burned 16,567 acres about two miles north of Lincoln. 
Dutton said officials are remaining optimistic but preparing for the worst, even though the town is not in danger at this point. 
"We're trying to get braced for a long weekend," Dutton said from Lincoln on Friday night.