Collaboration between teachers and administrators in Helena Public Schools is working to improve student performance and preparedness.
Assistant Superintendent Greg Upham touted collaboration as the district celebrates recent national recognition from three organizations for improving student testing and better preparing them for college or a career. Recognition came from ACT, Advanced Placement courses for college credit, and standardized testing for elementary students called Renaissance Star.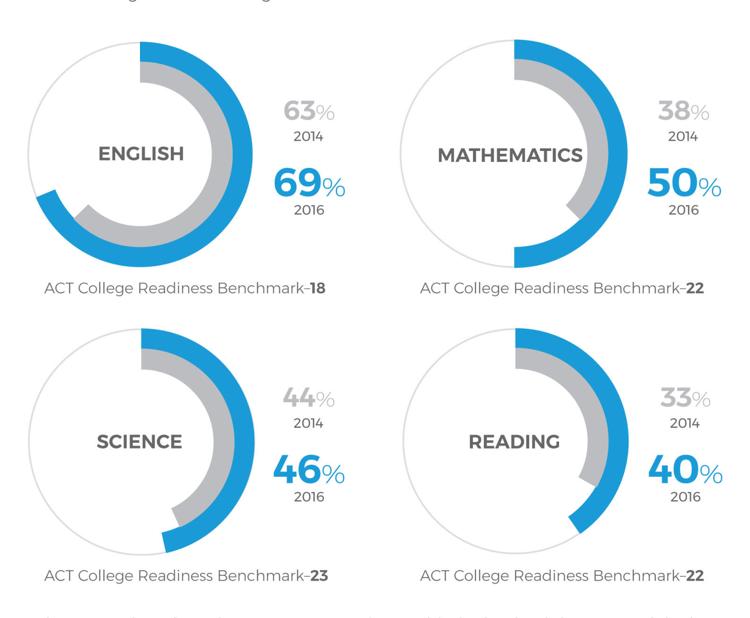 ACT
The district was recognized with a case study by the ACT, a college entrance exam also used to test all high school juniors in Montana.
In two years, the district improved its scores significantly. For example, in 2014, 38 percent of students were ready for a college math course. In 2016, 50 percent of students were ready. College readiness went up on all four sections of the ACT: math, science, English and reading. Upham said the district decided to analyze its own data to understand why some students were testing well and why others weren't. The district also instituted Professional Learning Communities where teachers could use that data and other feedback in weekly meetings to discuss how they can improve certain courses or teaching methods.
A couple of years ago, the district started comparing ACT scores to high school courses taken by the students taking the test. Before that, Upham called attempts to improve scores "a shot in the dark." When all juniors in Montana took the ACT for the first time in 2013, Joan Meyer, a high school librarian who was trying to improve some of her students' reading scores, met with Upham to go over the data.
The ACT provides schools with some feedback on how students are doing based on the course patterns, but the report relies on students to self-report courses they're planning to take. Instead, Meyer and Upham decided to look at actual courses taken by students in the Helena district to get the most accurate information.
"Our document is modeled after ACT's Core or More information, but it's far more detailed and it's specifically tailored to the courses our students take," Meyer said. "The first year I did it for the district I looked at math and science and we were just astounded by what we were seeing."
The data showed students who took advanced courses, like honors and advanced placement classes, were scoring well above the Montana University System's admission requirements. For example, in 2017, students who took honors math for three years and calculus their senior year had an average ACT score of 26.7. Students are supposed to score at least a 22 to indicate college readiness. But students who took Algebra I, Geometry, and Algebra II, the minimum math requirement to be admitted to an MUS school, only scored an average of a 19.2.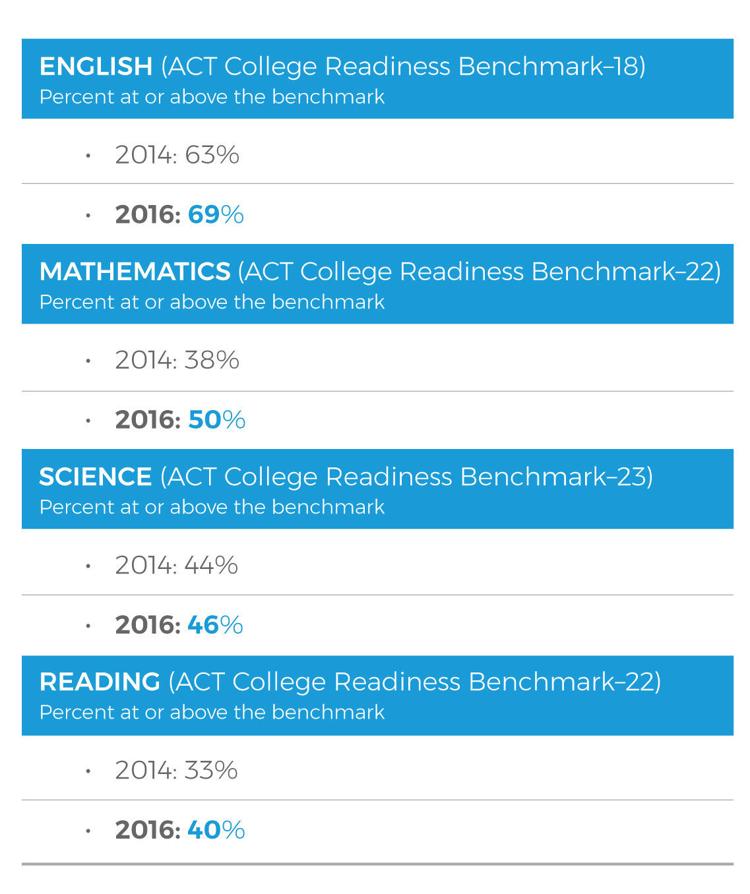 Upham said he was thrilled when the data showed taking advanced classes paid off for students. And now families receive the Core or More document in the spring of eighth grade with the hopes they'll enroll in more rigorous courses to prepare for college and be eligible for academic scholarships.
But Upham said students who fulfill graduation requirements without taking advanced courses should still be prepared for the next step. He also said it's the responsibility of schools to get them there.
"We're not putting that pressure on students," Upham said.
Instead, the district established Professional Learning Communities to encourage teacher collaboration. Teachers get together each Monday with colleagues teaching the same subject or with their grade level. They receive data collected by Meyer and go over long term goals. They also check in after a specific unit to see if students are learning and what does or doesn't work. Young teachers also have the chance to be mentored by more experienced colleagues.
"We've always had a talented group of individuals," Upham said. "Now we're all pulling in the same direction."
Upham said the Professional Learning Communities aren't designed to teach to a test or stop teachers from trying something new.
"We in no way shape or form want to inhibit creativity," Upham said.
AP
The Helena School District was nationally recognized by Advanced Placement this year, which provides students with rigorous courses and the opportunity to receive college credit. It's the fifth time the district received the recognition, called the AP Honor Roll. To be recognized, the Helena district had to increase participation and performance. Of the more than 2,000 districts that have been on the honor roll the past eight years, only 25 have made it five times.
Upham said the district used to have grade level and other restrictions on who could take AP courses, but removed those barriers in past years. The district has also increased the number of AP courses available. Teachers must make a proposal to the district on the certification or preparation needed and the cost of course materials. Upham said they haven't said no to a proposal yet.
Capital High School Principal Brett Zanto said 126 students were in at least one AP class five years ago. Last spring, 190 were enrolled.
"There is an increased rigor with AP courses that are just going to improve their skills to be prepared for whatever it is after high school," he said. "Those skills also carry over to higher ACT and SAT scores."
Steve Thennis, principal at Helena High School, said students in the district are scoring better than the Montana average. In the five tests taken most often in the state in 2017, Helena had a higher average score in every category.
Renaissance Star
The district is also putting an emphasis on readiness starting in elementary school. In the past few years, the school district realized if a student falls behind in grade school, it's difficult for them to catch up even by the time they reach high school.
For example, if a student isn't ready for honors math in middle school, they won't be ready in high school. And students who don't take advanced math courses perform worse on college entrance exams like the ACT.
"All too often kids get moved forward, but fall behind," Superintendent Jack Copps said. "Every step has to matter."
The school district started using elementary student assessments for math and reading called Renaissance Star. The tests are given three times a year for first grade through eighth grade. Unlike multi-day standardized testing, Renaissance Star takes about 20 minutes and provides immediate feedback to see how students are meeting benchmarks.
In a story outlining the district's success with Renaissance, Jilyn Chandler, a data assessment administrator, said about 55 percent of fifth graders were above the 80th percentile in math.
"That ranking qualifies them for advanced math classes in the sixth grade and sets them on a course that we know ... leads to success on ACT college readiness benchmarks," she said.
In 2017, Helena's elementary students exceeded the state average from third through eighth grade.
"The data guides all who work with our children to set achievable academic goals that lead to college and career readiness," Chandler said in the article.