The Lewis and Clark Humane Society received a $101,505 check on Friday afternoon to jump-start the most important time of the year for giving to the shelter.
Patricia and John Armstrong presented the check on behalf of their late neighbors, George and Dorothy Huston, who split their estate between the shelter in Helena and Butte.
The Hustons moved to Helena from Toledo, Ohio, in the late 1990s. The Armstrongs were their backdoor neighbors and their dogs always ran the fence together. George Huston was described as a lovable curmudgeon who liked to talk politics. The Hustons didn't have kids and when Dorothy died in 2010 and George needed help, the Armstrongs volunteered to execute his will.
"It's just been a real joy," Patricia Armstrong said. "We've thoroughly enjoyed being a part of this."
Shortly after moving to Montana, the Hustons adopted a dog from Helena. After his wife died, George adopted Buddy, a springer spaniel mix from the shelter in Butte. Now Buddy has been adopted by another neighbor who grew up playing with him.
After presenting the check, the Armstrongs took a tour to understand how needed the Hustons donation is. Executive Director Gina Wiest said it costs $3,500 a day to operate the shelter.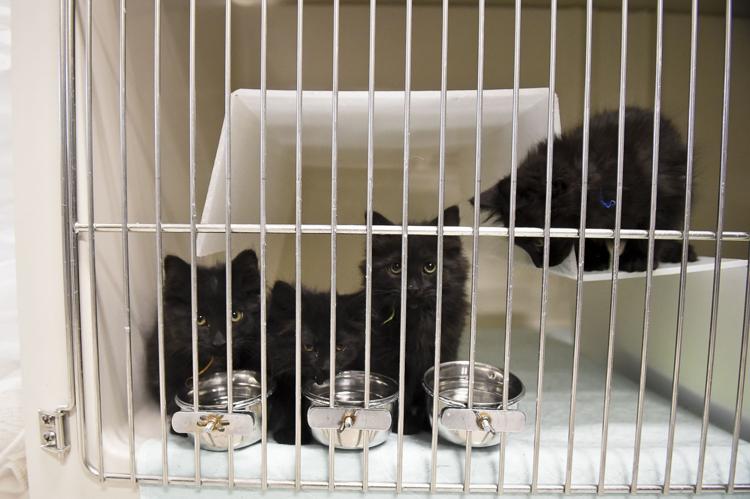 "This is breathing room," she said. "We are struggling."
Wiest said donations almost cease from March to October, but drastically increase around the holidays. While Wiest said the shelter is incredibly grateful for the Hustons donation, she said it will go toward big ticket items, maintenance the shelter has been holding off on or emergencies like a boiler going out. She said it's crucial for the shelter to continue fundraising until the end of the year to continue day to day operations.
Wiest said the shelter has spent the past few years expanding to limit an existing shelter animal's contact with an incoming stray to prevent illness. They also have built more kennel space to make sure animals can rotate to regularly clean all holding areas. Wiest said she's also on a mission to provide education about puppy mills in the area since the shelter is often where people first file a complaint. They only euthanize an animal when it has severe behavioral issues or are too ill, which Wiest said is rare. She said the shelter also works to have incoming animals adopted out in 15 to 20 days to reduce stress.
"There isn't anything normal about being here," she said.