It was a normal day for John Sabec on June 16, 2011, when he fell asleep at his home in Pueblo, Colorado.
But his life was anything but normal when he awoke the next morning.
And it hasn't been ever since.
That night almost six years ago he lost his vision from diabetic retinopathy. He woke up with no vision in his left eye and large gray spots blocking his vision in his right eye.
"The retina in my left eye exploded," he said. A surgeon was able to reattach the retina in his right eye, but he has very limited vision, which he compares to "looking through a toilet paper roll."
Sabec sank into a depression and withdrew from life for several years. But he's managed to turn his life around.
He's now attending Helena College working on an associate degree and is a work study employee for the college's Disability Resource Office.
What happened to him gives him a unique view into the challenges students with disabilities face.
"I work with anybody with a recognized disability," he said, whether it be physical, learning or emotional. More than 100 students are registered with the Helena College office and have a documented disability.
"I can empathize with a lot of people," Sabec said. "I know what it's like to have something taken away from you. I've been in the same boat."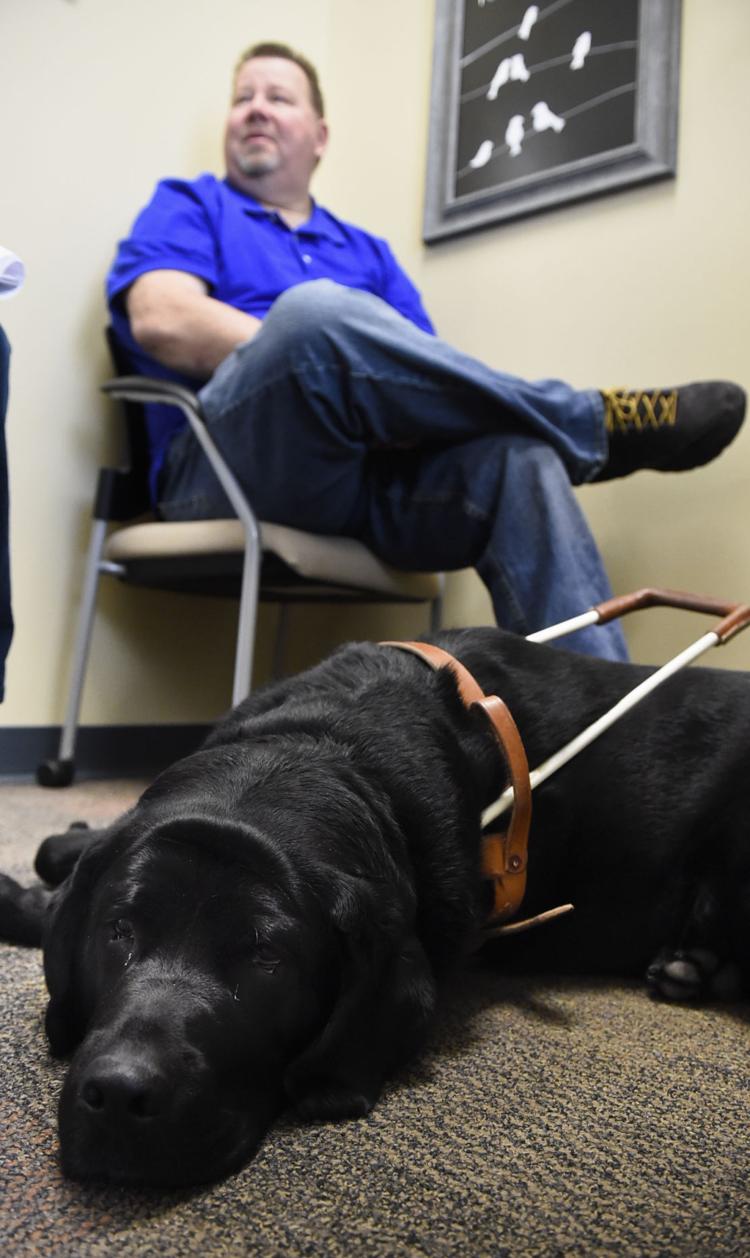 As far as assistance for his own disability, the college puts his books on PDFs that he can enlarge on his home computer till the lettering is big enough for him to read. Or the computer can turn it into an audio recording he can listen to.
Accompanying him in his work and studies is his service dog, a black lab named Benjamin.
"John schedules appointments, proctors tests and creates and maintains student files," said Kristine Fife, the Helena College disability resource coordinator.
The office provides a wide range of accommodations for students with disabilities ranging from physical to cognitive to psychiatric.
"Anyone with documented needs can receive resources," Fife said.
"John has overcome a lot with different health issues," she said. He's shown "an incredible amount of perseverance despite barriers," she said.
"His own disability heightens his ability to be empathetic and assist students with disabilities."
At the time he lost his vision, "I went into depression and thought my life was over," he said. "I isolated myself. I wasted 2 1/2 to 3 years of my life."
"I worked in law enforcement most of my adult life and was driving a paratransit bus."
He jokes that he went from driving the "short bus" to riding it.
June 16, 2011, was the last day he ever drove -- although it took him years, he admits, to give up the idea of being a licensed driver. "Driving was a big deal to me."
Sabec wound up moving to Hardin in 2012 to be near his children, and through their help he learned of the National Federation of the Blind.
Once he began working with that organization, he discovered "life doesn't end if you lose your eyesight."
In 2014 he found his way to Helena and now feels right at home.
"I just like the Helena area," he said. "It has big city amenities with a small town feel."
He started at Helena College in fall of 2015 and plans on graduating in fall 2017, and he wants to go on to earn a four-year degree at a Montana campus to become a disabilities advocate.
He's been earning a 3.7 grade point average and is on the dean's list.
"This office has been amazing," he said. "Kris has been amazing. She's one of my reasons for success.
"Everyone here is professional and caring," he said. "I've had a teacher who has gone above and beyond a teacher and is a real good friend.
"It's awesome -- like a family. Everyone wants to see everyone succeed here. I just think if you're looking to further your education or become a success in life, Helena College is a great place to start.
"It's given me confidence to be productive in life and to socialize again."
What he's learned from life, Sabec said, is he "needs to keep striving to move forward. What's difficult today is a speed bump. There's smooth sailing for a while and then another speed bump."